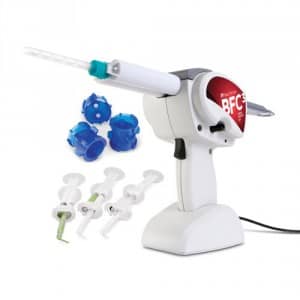 Practicon, Greenville, NC, has bundled its BFC3 Powered Impression Gun with two related products. The bundles are designed to improve impression efficiency and provide cost savings.
The handheld, cordless BFC3 Powered Impression Gun dispenses any type of 1:1 auto mix material at the press of a button. The ergonomic design is similar to annual auto mix guns and works with all standard 25 ml, 50 ml, or 75 ml cartridges.
According to the company, BFC3 fills a full-arch tray in less than 10 seconds and dispenses an entire 50 ml heavy-body VPS cartridge in about 30 seconds. Material flow rate is adjustable from 0.6 to 1.7 ml/sec. Plunger motion reverses momentarily when trigger is released to prevent late discharge and material waste. BFC3 includes auto-stop with overload protection circuitry which engages when cartridge is empty. The rechargeable 11.1V lithium-ion battery dispenses up to 60 full 50 ml cartridges on a single charge and recharges in about 2 hours. Low battery LED illuminates when dispensing capacity drops below 10 cartridges.
The BFC3 comes with the motorized impression gun, 50 ml plunger (for use with both 50 ml and 25 ml cartridges), 75 ml plunger, wall charger with full charge LED indicator and overcharge protection circuitry, and countertop stand.
The first BFC3 Powered Impression Gun bundle package includes Practicon's Lock-N-Reload Cartridge Couplers. These allow users to combine small amounts of material from several cartridges into a single usable cartridge.
The second package bundles BFC3 with the original Better Faster Cheaper (BFC) Syringes. These syringes can be loaded quickly with light-body wash material in advance and stored for later use.