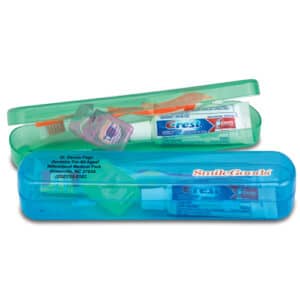 Practicon, Greenville, NC, offers personalized SmileGoods® Patient Care Cases.
The cases are prefilled with a manual toothbrush, toothpaste, and dental floss, and can be used to promote the practice with up to five lines of text in black, silver, or gold ink.
The hinged, vented hard plastic cases come in assorted translucent jewel-tone colors with a selection of home care supplies for adult or child patients.
Save