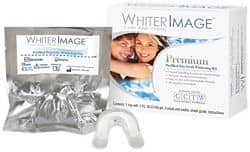 Whiter Image, Atlanta, now offers its line of whitening products to orthodontists.
The Whiter Image Premium LED whitening light features an aluminum framesupported by a rolling steel base for mobility. The three 5-watt LEDlights provide 465 to 490 nm of visible blue light. The 16-pound, 5-foot-tall light also features a control panel with a countdown timer.
The Whiter Image Premium Prefilled Tray features a 22% hydrogen peroxideformula and a preloaded foam absorption strip. The mouthpiece fitsagainst upper and lower teeth for whitening. The tray also includesbreathing holes designed to lessen saliva buildup during use.
The product line also features a light-cured, resin base gingivalbarrier, and Remi Paste, a naturally derived topical paste. The gingivalbarrier provides protection for isolating tissue adjacent to teethbeing whitened. Remi Paste is formulated to reduce sensitivity afterteeth-whitening procedures, while helping with demineralization.
For more information on this and other orthodontic companies, visit our Buyer's Guide.