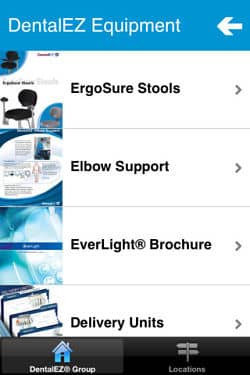 DentalEZ® Group, Malvern, Pa, recently released a new sizing application that enables users to plan their next major utility room purchase. The free app is available for iPhone® and iPad® at the iTunes App Store.
The RAMVAC® Utility Room Sizing app is intended for dental and orthodontic professionals who are interested in obtaining concise and detailed information when planning for the purchase of utility room equipment. The new app specifically focuses on RAMVAC compressors and RAMVAC and CustomAir® vacuum units.
The app prompts users interested in purchasing a compressor to provide information concerning treatment rooms and information about all devices that use clinical air within their utility rooms. The application then recommends detailed information about which compressor is most appropriate to purchase and provides all available data on the product including images, part numbers, and retail pricing. The app also includes an "air checklist" designed to evaluate and record all items included in existing utility room set-ups.
Much like the air sizing tool, the vacuum sizing tool requests input on the number of treatment rooms and devices being used in order to calculate the best recommended wet or dry vacuum system. For dry vacuums, recommendations include specific vacuum and tank combinations. A "vacuum checklist" is also available for a proper evaluation of existing vacuum equipment being used within the dental office.
In addition, the Utility Room Sizing app features DentalEZ's complete utility room product brochure and includes a customer section for store recommendations. Furthermore, tools for taking notes and creating drawings are also offered. Each of the tools can be emailed or saved into a customer profile along with the air and vacuum recommendations and checklists.
For more information about this and other orthodontic companies, visit our Market Guide.