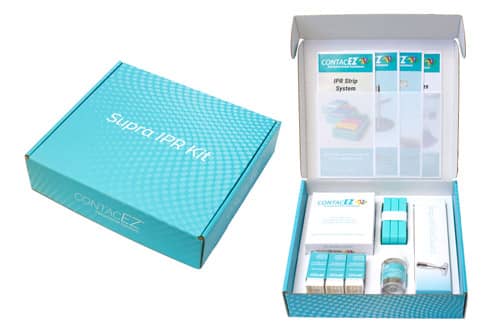 ContacEZ, Vancouver, Wash, launched its new Supra IPR Kit. The kit is designed to give orthodontists and general practitioners a single kit that contains all the products needed to perform both motorized and manual IPR.
The company's new SupraDisc is featured in the Supra IPR Kit. According to the company, the safe-edged diamond disc was inspired by a request from Dr Rebecca Poling during her tenure as professor at the NYU Department of Orthodontics. Poling had noticed that many of her students would leave deep ledges and gouges in tooth surfaces after performing IPR with diamond discs. ContacEZ's research and development team worked for 2 years to research, design, test, refine, and manufacture SupraDisc.
Each Supra IPR Kit contains SupraDisc—top, bottom, and dual-coated 22 mm diamond discs with nonabrasive safe-edge; Snap-On DiscGuard—designed to reduce the risk to patients' soft tissue from spinning discs; IPR Strip System and IPR Plus—flexible, single-handed diamond strips for manual reproximation; Strip Trays—for storage and organization of ContacEZ IPR Strips; and an Incremental Thickness Gauge—to confirm accurate IPR.