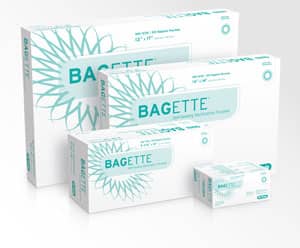 Hu-Friedy, Chicago, has expanded its Bagette Self-Sealing Sterilization Pouch Line, adding four new sizes to the existing Bagette product line. With eight variations available, the company now offers options that will fit all Hu-Friedy Signature Series® Cassettes, including its oral surgery cassette. Four smaller sizes are also available for all other office needs, including rubber dam clamps, burs, hand pieces, and loose instruments.
Features of the set include process indicators located both internal and external to the instrument/cassette area for both steam and EO processes; medical-grade paper construction, providing strength and durability and multilayer blue film to easily see any tears in film; strong seals to protect against cassette and instrument breaches and a wide self-seal adhesive strip to easily and securely seal pouches and provide reliable seal; and a thumb notch for ease of opening. The pouches are lead-free and are not made with natural rubber latex.
For more information about this and other orthodontic companies, visit our Market Guide.