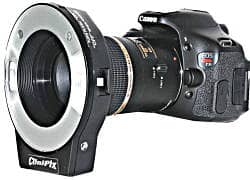 CliniPix, Wellington, Fla, offers the Canon Rebel T3i Digital SLR camera for orthodontic use.
The 18 megapixel camera features 3-inch vari-angle LCD screen andhigh-definition movie capability. The Canon Rebel also features awireless ring flash that is E-TTL dedicated and battery-powered.
The Tamron 90 mm macro lens can be used in manual or auto-focusmodes. According to the company, the 90-mm focal length allows for acomfortable working distance when taking 1:1 views of the posteriorregion and will focus to distortion-free full-face or profile shots.
The camera package include a 2 GB SD card, a USB card reader, astainless steel mirror, retractors, and imaging and printing software.The system comes pre-set with all functions for dental use, and includesspecific instructions and unlimited toll-free telephone support.
For more information on this and other orthodontic companies, visit our Buyer's Guide.