On the Market
Liquid Admix

Dental Creations offers WonderAdmix concentrate, a liquid admix for all die stones, buff stones, and dental plasters. The admix makes a bubble-free mixture that flows easily and creates dense, hard models that are freezer-stable. Because the admix is shipped in concentrated liquid form, shipping costs are lower than for premixed products. When mixing stone products, mix one 60-ml syringe of WonderAdmix concentrate with 3¼4 gallon of water, shake well, and use in place of water as specified by stone manufacturers. WonderAdmix comes in 1.5-gallon and 6-gallon kits, each with syringes, a mixing container, and a measuring cup.
For more information, contact Dental Creations Ltd, 1411-L N Valley Mills Dr, Suite 309, Waco, TX 76710; (866) 235-5757; www.wonderfill.com.
Backrest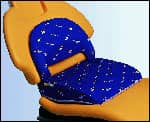 Sirona Dental Systems introduces the C8+, a narrow backrest that conforms to the needs of any dental practitioner. The narrow backrest provides a streamlined profile and allows flexibility in tight spaces. Three inches narrower on each side than the standard backrest, the C8+ permits greater access to the oral cavity for smaller practitioners.
For more information, contact Sirona Dental Systems LLC, 4835 Sirona Dr, Suite 100, Charlotte, NC 28273; (800) 659-5977; www.sirona.com.
Dental Spring

Dentaurum offers the SUS2 (Sabbagh Universal Spring), a universal dental spring with a telescope element that can be used intermaxillarly for obtaining skeletal and dentoalveolar effects. The spring is used to correct distocclusions, to distalize the upper posterior teeth, and to provide TMD therapy. It may be used in noncooperative patients, in late cases with little remaining growth, and to help treat diseases of the upper respiratory tract. According to the company, the SUS2 helps avoid extractions and dysgnathic surgery. The spring can be quickly and easily fixed using the Arch Adapter. The SUS2 is gentle to the temporomandibular joint and allows great freedom of mandibular movement, thereby increasing patient acceptance.
For more information, contact Dentaurum, 10 Pheasant Run, Newtown, PA 18940; (800) 523-3946; www.dentaurum.com.
Enamel-Stripping Kit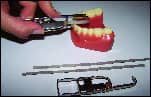 Glenroe Technologies offers an enamel-stripping kit, which includes a universal stripper instrument that is made of sterilizable stainless-steel and can be manually operated. It accepts all sizes of steel abrasive strips and many linen, cloth, or plastic abrasive strips that can be sterilized. The kit has strips of three different widths that can be used for several applications to prevent gingival-tissue injury. The incisal guide prevents tissue laceration. Single-sided and double-sided strips can be used with the instrument.
For more information, contact Glenroe Technologies, 1912 44th Ave E, Bradenton, FL 34203; (800) 237-4060; www.glenroe.com.
Conflict-Resolution Book

Hummingbird Associates offers the book Beyond Resolution—Transforming Conflict in the Orthodontic Practice. Written by Karen Moawad, the book includes lessons, exercises, and many true stories written exclusively for the orthodontic practice. The skills for transforming conflict and moving beyond differences offered in this book invite orthodontists and staff members to take a powerful step forward, to create a foundation for future productivity, and to discover the tools for building friendship and intimacy. The book also offers strategies that should be considered to prepare for conflict.
For more information, contact Hummingbird Associates, PO Box 10279, Bainbridge Island, WA 98110; (206) 842-2661; www.hummingbirdassoc.com.
Bite Opener

Gestenco International offers Bite-Bumpers™ that work in open and deep-bite cases by allowing the anteriors to ride up and out of the occlusion. According to the company, Bite-Bumpers eliminate bracket bond failures. The fixed placement-jig guarantees the correct height on the lingual of the tooth and makes sure the two Bite-Bumpers are 100% parallel.
For more information, contact Gestenco International AB, PO Box 24067, Gothenburg, SE 40022, Sweden; 01(46) 31-81 00 35; [email protected].
Coloring Books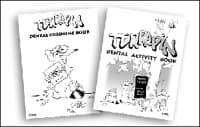 Almore International offers Terrapin dental activity and coloring books for the waiting room or as patient give-a-ways. The books entertain a wide range of ages, while reinforcing good oral health. The activity books feature an array of puzzles that include word finds, mazes, and find-the-hidden-objects. The coloring books also focus on dental hygiene and feature humorous dental scenes ready for coloring. Each book is eight pages in length and measures 81¼2 x 11 inches. The books are sold in packages of 100.
For more information, contact Almore International Inc, PO Box 25214, Portland, OR 97298; (800) 547-1511; www.almore.com.
Blinking Toothbrush

Dr. Fresh offers the Float'n Fire Fly toothbrush. Each bright and sparkly toothbrush contains a favorite cartoon character floating inside the base, and the entire handle lights up and flashes for 1 minute to inspire kids to brush for 1 minute on the uppers and 1 minute on the lowers. The bristles are gentle for kids—the nylon strands are individually end-rounded to prevent microscopic cuts to the gums.
For more information, contact Dr. Fresh Inc, 6645 Caballero Blvd, Buena Park, CA 90620; (866) 373-7374; www.drfresh.com.
Snoring Solution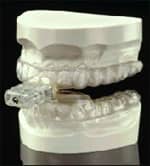 Practicing the Art of Dentistry offers a snoring and sleep apnea controller program to help patients who snore or who have been diagnosed with obstructive sleep apnea get a good night's sleep. According to the company, the program is fast, convenient, involves no surgery, is far less expensive than a CPAP machine, and, in most patients, delivers complete relief and treatment for snoring or sleep apnea.
For more information, orthodontists can contact Practicing the Art of Dentistry, 455 O'Conner Dr, Suite 320, San Jose, CA 95128; (408) 971-9600; www.cosmeticdentistsanjose.com.
Orthodontic Instruments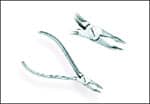 Dentaurum has expanded its series of Premium line of chairside and laboratory orthodontic instruments. All of the instruments are made of hardened, corrosion-resistant stainless steel and are available with a 10-year warranty. All of the Premium line instruments are precise, ergonomically designed, rounded, safe, and easy to use. No loosening of cutting inserts is needed. According to the company, cutting inserts are made of a special alloy and offer corrosion resistance. Free instrument catalogs are available upon request.
For more information, contact Dentaurum, JP Winkelstroeter KG, Turnstr 31, 75228 Ispringen, Germany; 49 (0) 7231-803-523; www.dentaurum.de.