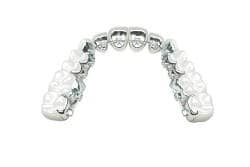 American Orthodontics, Sheboygan, Wis, now offers the Harmony system, a digitally customized self-ligating lingual bracket system.
Using PVS impressions sent to the Harmony Technical Center, thesystem creates a 3D scan of the patient's teeth, which are then moved totheir ideal position following the orthodontist's recommended treatmentplan.
After creating the 3D image and receiving approval from theorthodontist to proceed, Harmony uses proprietary CAD/CAM technology todesign and then manufacture a digitally customized bonding pad andself-ligating lingual bracket system.
For every case, the Harmony Technical Center also fabricates indirectbonding trays and customized positioning jigs that form a mechanicalguide to slide over anterior teeth.
For more information on this and other orthodontic companies, visit our Buyer's Guide.