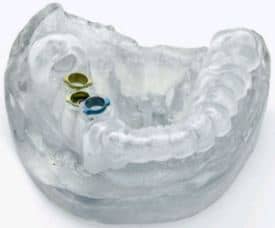 Bio-Compatible 3D Printing Material
Objet Ltd, Rehovot, Israel, now offers a new Bio-Compatible 3D printing material (MED610™).
According to the company, the material combines bio-compatibility with high dimensional stability and clear transparency, making it useful for a wide range of dental applications, including making it easier to monitor underlying soft tissue during dental procedures.
Objet Bio-Compatible material can be used for prolonged skin contact of more than 30 days and mucosal-membrane contact of up to 24 hours. It is manufactured under the ISO 13485:2003 certification, which specifies that every batch of the material undergoes bio-compatibility conformity testing before it is packaged.
The Bio-Compatible material can be used on all Objet Connex and Eden 3D printers.
Objet Ltd
(877) 489-9449
objet.com
---
Blue Series Oral Appliance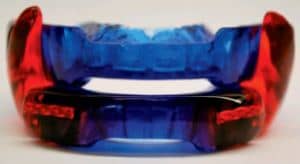 Respire Medical, Brooklyn, NY, offers the Respire Blue Series, an oral appliance for the treatment of snoring and sleep apnea. According to the company, the Respire Blue Series attachment is further anterior than other appliances, giving users more room in the buccal vestibule. In addition, this position is designed to reduce pressure on the screw, resulting in fewer breakages. The Respire Blue Series allows patients to open and close their mouths while wearing the appliance and is open in the front, allowing for more air to be inhaled and exhaled per breath, according to the company.
Respire Medical
(718) 643-7326
respiremedical.com
---
Philosophy 1 Rapid Palatal Expander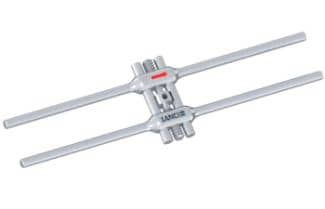 Lancer Orthodontics, Vista, Calif, now offers Philosophy 1, a rapid palatal expander (RPE). According to the company, the RPE's micro-dimensions allow the Philosophy 1 to fit close to the palate and to the center of resistance of the palatal suture to improve the transfer of expansion force. Providing expansion from 4 mm to 13 mm, the Philosophy 1 has no welded seams and features newly designed expansion arms that open vertically, as well as laser markings to indicate the proper direction of rotation. Made of a steel alloy, the device has a patented antirotation activation system that prevents unintended springback. The Philosophy 1's activation "feedback" feature gives parents audible and tactile feedback with each quarter-turn (one hole). The Philosophy 1 allows for additional rechargeable expansion when needed by using the plus-size body screw R13 that can be changed out in the office. No additional impressions or wait time are needed. Included with the Philosophy 1 is a patient chart for therapy control.
Lancer Orthodontics
(800) 854-2896
lancerortho.com
---
C-SAW Interproximal Reduction System
Great Lakes Orthodontics Ltd, Tonawanda. NY, now offers the C-SAW™ Interproximal Reduction System. According to the company, C-SAW is effective for fixed orthodontics, aligner techniques, and general dentistry. The C-SAW system includes a low-speed, high-torque reciprocating handpiece; single-sided, diamond-coated files; and a GPS Clamp to provide interproximal separation and soft-tissue protection. The entire system is autoclavable.
Great Lakes Orthodontics
(800) 828-7626
greatlakesortho.com
---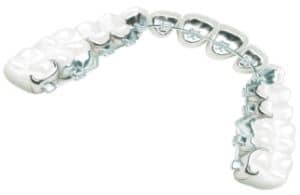 Harmony Digitally Customized Bracket System
American Orthodontics, Sheboygan, Wis, now offers the Harmony system, a digitally customized self-ligating lingual bracket system. Using PVS impressions sent to the Harmony Technical Center, the system creates a 3D scan of the patient's teeth, which are then moved to their ideal position following the orthodontist's recommended treatment plan. After creating the 3D image and receiving approval from the orthodontist to proceed, Harmony uses proprietary CAD/CAM technology to design and then manufacture a digitally customized bonding pad and self-ligating lingual bracket system. For every case, the Harmony Technical Center also fabricates indirect bonding trays and customized positioning jigs that form a mechanical guide to slide over anterior teeth.
American Orthodontics
(800) 558-7687
americanortho.com
---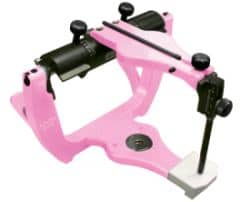 Pink Denar Mark 320 Articulator
In honor of Breast Cancer Awareness Month, Whip Mix, Louisville, Ky, offers a Pink Denar® Mark 320 Articulator. The company will donate a portion of the sales of this limited edition model to the American Cancer Society to help fund cancer research. With the same features as the original model, the articulator has a semiadjustable articulator with progressive sideshift fixed at 15° and an adjustable condylar inclination (0° to 60°). The three-point magnetic system is designed to ensure stability of cases and makes it interchangeable with any Mark 300 Series Articulator. The Denar Mark 320 is accurate to within 20 microns.
Whip Mix
(800) 626-5651
whipmix.com
---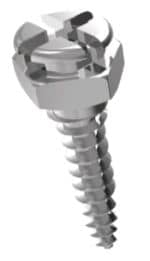 Infinitas Mini-Implant System
DENTSPLY GAC, Bohemia, NY, now offers the Infinitas Mini Implant System, a temporary anchorage device (TAD). The head of the Infinitas mini-implant is designed for direct attachment of many forms of traction. One traction level in the undercut of the low-profile head holds auxiliaries such as closing coil springs, elastomeric chain. and 0.021- x 0.025-inch rectangular wire. The Infinitas does not require custom-made closing coil springs. The Infinitas cutting thread continues the full length of the TAD's body. In addition, the Infinitas features an angled transmucosal neck design, allowing insertion at any angle. Two neck heights are available: a short neck for areas of thin mucosa, and a long neck for areas of thick mucosa. All Infinitas TADs are designed to be self-drilling, so users have no need to drill a pilot hole.
DENTSPLY GAC offers three Infinitas system kits: an Introductory Clinical Kit (sterile and nonsterile); a Complete Clinical Kit (sterile and nonsterile); and a Guidance Kit, which contains patent-pending stent components designed to help simplify the production of a stent to allow TAD insertion in any location. In addition to these kits, DENTSPLY GAC offers a full line of sterile and nonsterile individual implants.
DENTSPLY GAC
(800) 645-5530
gacintl.com
---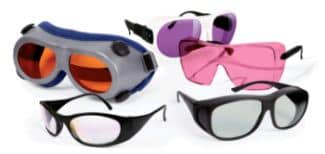 Laser Safety Glasses with Magnification
Vision USA, Cherry Hill, NJ, offers its Laser Safety Glasses with Magnification. Constructed from polycarbonate, glass, and thin dielectric filter glass, the laser safety glass frames are available in several styles and feature side shields, spring hinges, and a broad nosepiece. Magnification that can be worn with the laser glasses is also available.
Vision USA
(800) 257-5782
visionusasupplies.com