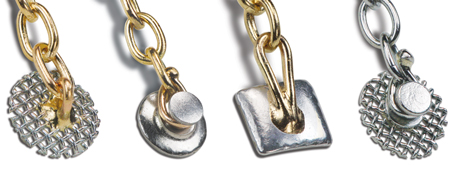 Ortho Technology, Tampa, Fla, has launched a line of Premium Eruption Appliances. Made with 14k gold chains and surgical steel with reduced or low nickel content, the appliances can be lift in the mouth for extended periods of time without discoloring, deteriorating, or experiencing any loss of integrity, according to the company.
The selection of profile and base options are available for individual case treatment, and include round-shaped chain links that accommodate up to a .030″ elastic thread. According to the company, the 1-inch chain is slender, smooth, and lightweight for a more comfortable patient experience.
The unique round mesh base is designed to provide excellent bonding characteristics with bonding material flow-through. In addition, this style can be cut and molded to each tooth for a custom fit and will not fray or unravel.