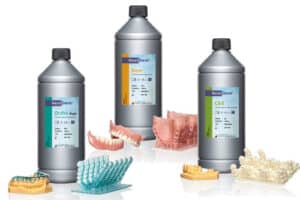 Vertex-Dental BV, Soesterberg, The Netherlands, a developer and manufacturer of biocompatible 3D dental printing materials, recently introduced NextDent® 3D printing materials with a Class IIa certification, according to the European Commission Medical Device Directive 93/42/EC. Class IIa certification of these materials allows them for use in long-term applications in the oral cavity. Examples include splints, denture bases, crowns, and bridges.
The biocompatible CE-certified Class IIa NextDent materials include NextDent Ortho Rigid, which can be used to produce splint for long-term use in the patient's mouth; NextDent Base, which was specifically developed for the printing of denture bases; and NextDent C&B, a tooth-colored material for the production of crowns and up to three-unit bridges for mid-term solutions.
The three new materials expand the company's existing portfolio of NextDent Class I 3D printing materials for the production of surgical guides, individual impression trays, and indirect bonding trays—as well as the company's other nonclassified NextDent materials: Model, Model Ortho, Cast, and Gingiva Mask.
In addition to the 3D printing materials, Vertex-Dental BV also offers the NextDent LC-3DPrint Box. The UV light box can be used for post-curing of the resins. Post-curing is a UV light treatment to ensure the printing materials obtain full polymer conversion. Through this, the residual monomer is reduced to a minimum and the highest mechanical properties are obtained. This procedure is a necessary step to produce a biocompatible end product, according to the company.
All materials are compatible with DLP/SLA-based printers with a wavelength range of 365 to 405 nm.