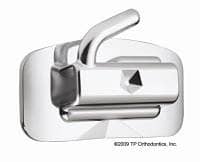 TP Orthodontics Inc, La Porte, Ind, now offers Ultra-Low Profile Molar Tubes. The tubes' bondable pad conforms to the buccal groove, while a positioning guide is designed for better placement. According to the company, the ultra-low profile minimizes the potential for debonding and improves patient comfort, and the funnel-shaped entrance makes wire insertion easier.
The tubes feature the company's PrimeKoteTechnology, a protective coating designed to resist moisture and contamination, reinforce the bond between the mesh pad and adhesive, and simplify removal and cleanup.
For more information on this and other orthodontic products, visit our Buyer's Guide.