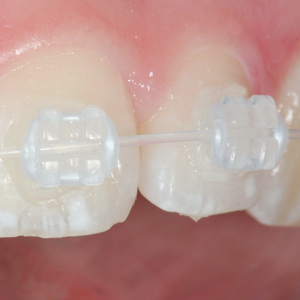 Dentaurum, Ispringen, Germany, recently added the discovery® pearl, an all-ceramic bracket, to its  discovery family. Available in a complete upper and lower jaw set for Roth 18 and Roth 22, the brackets can be optionally ordered with hooks on 3, 4, and 5, and additionally in lower MBT 22. The complete MBT 18 system will be added in the second quarter of 2015.
The one-piece bracket is injection-molded from high-purity aluminum oxide and, according to the company, is almost invisible in the mouth. It features an In-Out of 0.7 mm, designed to make it slim and comfortable to wear, as well as rounded wing undercuts with room for all types of ligatures, including combinations with elastic ligatures. All brackets in the discovery family have the same In-Out of 0.7 mm so they can be combined with one another without compensating bends, a design intended to offer flexibility in defining individual treatment plans. According to a release, the discovery pearl works in combination with the line's smart metal brackets to provide a secure bond.
A system of colored positioning guides is intended to facilitate the placement of the translucent brackets so they can be matched to each tooth and aligned with the tooth axis. The bracket's 3D CAD-adapted contours are designed for it to adapt perfectly to the tooth without slipping.
Ortho-Cast M-Series buccal tubes for the adhesive technique and the translucent pearl arches complement the discovery pearl treatment. The starter set includes five cases of brackets, translucent pearl arches, Dentalastics® pearl, a discovery pearl debonding instrument developed for clean and easy bracket removal, and a typodont for patient consultation.