by Alan Ruskin
Gary Weinberger, DDS, MScD, excels as a treatment planner, financial planner, and sailor
Care for a sail on the Long Island Sound in a mostly hand-built 45-foot yacht? How about a round of golf in the foothills of Arizona's Sonoran desert? Want to get there in a beautiful British sports car? Or for something a little different, why not take in a lecture in Nanjing, China, given by one of the leading experts in his field? And while you're at it, you can record it all with the help of a published photographer genuinely dedicated to his craft. And if you're looking for assistance in becoming financially capable enough to enjoy this cornucopia of delights, why not consult a certified financial planner (CFP)?
As it happens, you can access all of this at the "one-stop shop" of Gary Weinberger, DDS, MScD, whose dedication to his practice in Plainview, NY, has allowed him to taste the fruits of success and indulge his many other passions. And Weinberger, an amiable sort, will be glad to share his joie de vivre with you.
An Advocate for Self-Ligation
A recognized authority on self-ligation, Weinberger, a native of New York City, began his academic pursuits at the State University of Albany in New York, where he majored in biology. He really didn't know what he wanted to do at that point, but since everyone had always said when he was growing up that, "Gary's going to be a dentist," he continued on to the NYU College of Dentistry.
With the encouragement of a colleague who had noticed his medical acumen, he went on to the Goldman School of Dental Medicine at Boston University. En route to earning his Certificate of Advanced Graduate Study in Orthodontics and his MScD in 1976, he encountered the pioneering and scholarly Anthony Gianelly, DMD, PhD, MD, who is renowned for his advocacy of evidence-based orthodontics and who was to become Weinberger's mentor. "He's an icon," Weinberger says, "and I can look back now and say I wouldn't be where I am without him."
PRACTICE PROFILE
| | |
| --- | --- |
| Name: | Gary Weinberger |
| Location: | Plainview, NY |
| Owner: | Gary Weinberger, DDS, MScD; and Todd Weinberger, DMD |
| Specialty: | Orthodontics |
| Years in practice: | 32 |
| Days worked per week: | 4 |
| Clinic square footage: | 2,200 |
Gianelly further instilled in Weinberger the philosophy he himself had culled from the words of the medieval religionist Thomas Becket. As succinctly spoken by Richard Burton in the 1964 film Becket, "If it is worth doing, it's worth doing well."
"I still remember that scene very clearly 45 years later!" Weinberger says. And Gianelly's somewhat more pragmatic version? "If you can't be the best, do something else."
"That's been my driving force," Weinberger states emphatically, "and has led me to achieve recognition in my field. I've had the opportunity to lecture to thousands of orthodontists around the world on the coupling of self-ligation with evidence-based philosophy, and to have conversations with hundreds more." Weinberger's lecture swing has included stops in China, Formosa, and Korea, all sponsored by 3M Unitek, a company he worked with to help develop its Smart-Clip Self-Ligating Appliance System, introduced in 2004. Some of his lecture topics include: "Optimized Treatment Protocol (OTP) for Self-Ligation," "A Conceptual Introduction to Passive Self-Ligation," "Archwire Selection Principles," and "Torque Control and Expression with Optimized Treatment Protocol."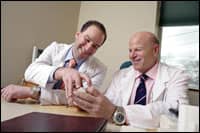 Weinberger and his son, Todd, consult about a case. Father and son have been sharing patients equally since Todd graduated from Boston University in 2004.
The concept of self-ligation originated as far back as 1935. But, Weinberger says, "As we learn more about biomechanics, particularly in the last 10 to 15 years, we have learned that when it comes to maintaining the association between wires and brackets, lighter forces are far more favorable." A mere 2 grams of force can, over time, move a tooth a significant amount, Weinberger explains, "but you want to maintain blood flow as much as possible by reducing friction between the archwire and bracket, and that's accomplished by using less force."
There are other advantages to self-ligation, Weinberger notes. "There's a savings in chair-operated time and advantages in oral hygiene. The O-rings used in conventional brackets are infested by bacteria."
Aesthetic Aims
Another area of emphasis in Weinberger's practice is aesthetics-driven treatment planning. "A smile is a composition that is appreciated best when there is a balance of the aesthetic elements that comprise a sense of beauty," he says. Weinberger considers not just the dentition, but rather the overall facial area. Four elements must come harmoniously together: 1) the overall facial form; 2) the vestibula frame (openings of the nose, eyes, and mouth); 3) the dentofacial area (lips and teeth); and 4) the dental elements and periodontal support.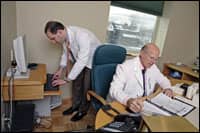 Weinberger became a certified financial planner in 1985, and now offers advice to a few select clients on a regular basis.
These four elements together form a "self-contained architectural system," a concept that Weinberger says came out of the work on aesthetics in dentistry by Claude Rufenacht of Switzerland, and from which he has derived principles that he has tailored to orthodontics. He considers his practice to be "facially sensitive, not just about straight teeth," and in this regard believes he is in the vanguard. "We consider various idiosyncrasies in the patient's face," he says, that might be overlooked by others.
Regarding the future of orthodontics, Weinberger believes that development will occur in three main areas: the use of temporary anchorage devices (TADs); the conversion of traditional cephalometry into 3D cone beam technology; and continued progress in self-ligation. His practice protocol is focused on integrating emerging technologies with aesthetics-driven treatment planning.
Work and Play
A recent addition to Weinberger's practice has been his son, Todd, who joined him in 2004 after graduating, like his father, from Boston University. Todd, again like his father, was taught and mentored by Gianelly, who "has a special affection for Todd—it's been just great having Todd share in knowing and learning from Tony as I did," Weinberger gratefully acknowledges. "At 32, Todd's ahead of where I was at that age, and a pleasure to work with and have around."
Father and son share a 2,200-square-foot facility that includes six chairs in the round, a private treatment area for adults, and a staff of five. Weinberger moved there in 1991 after opening his practice in 1976 in Hicksville, Long Island. He and Todd share all patients equally. "There's no demarcation, except maybe for a half dozen of what we call "stodgy" patients who want to see one or the other of us. We start about 300 patients a year, and I'll keep going as long as I feel I'm at the top of my game."
Other than the practice he loves, Weinberger also has a host of activities that help keep him merrily scooting along. One is a sideline as a financial planner, specializing in orthodontists and dentists. He became a CFP in 1985 after he "made up my mind that I wanted a more academic background in finance," he says. Although he is a member of the International Association of Financial Planners, he doesn't engage heavily in this area, because "between practicing and lecturing I've got a full platter." He offers advice to a few select clients on a regular basis, and also has some tips for our readers (see the sidebar, "How to Weather a Stormy Economy").
Weinberger has also published articles on practice management in professional publications, is a diplomate of the American Board of Orthodontics, and has been an assistant professor of orthodontics at the New York University College of Dentistry and the Stony Brook School of Dental Medicine.
Somehow, with all his professional obligations, he still finds ample time for the good life. He and Stephanie, his wife of 35 years, love sailing, and have raced their Maine-built yacht, Impulse, capturing second place in the 2003 Sabre World Cup. "I love sailing," he says, "because it's an aesthetic as well as a spiritual experience. When we're not in 'race mode,' we enjoy the silence and the beauty, and the chance to dream. In a world where those opportunities are becoming more and more rare, I highly value what sailing offers in this regard."
When he's not at sea, he might be found on the slopes. "I have been fortunate to ski for both pleasure and, when I was younger, as an instructor. I have most enjoyed the powder out West and the ambience of the Alps. Somehow, the thought of skiing from Switzerland down into Italy, having lunch, and then returning to Switzerland, though I must have done it 20 years ago, often returns to me, as do the runs at St. Anton in Austria, and Seefeld, near Innsbruck."
The sailor and skier also has an affinity for the kind of speed that can only be found behind the wheel of certain British automobiles. Weinberger says, "I've loved cars for as long as I can remember. Now I enjoy them for the fine driving experience as well as the beauty of well-thought-out designs and great handling." Now that he is approaching 60, he vows, "No more racing, though."
When he needs to slow down, Weinberger also enjoys golfing at Desert Mountain near his recently built second home in Scottsdale, Ariz. "The community has six golf courses, each of which has conquered me. The beauty of the community is that wildlife is abundant in the foothills of the Sonoran desert, and it's not unusual to see deer, bobcats, or havalina as you move from tee to green."
The Scottsdale home, which Weinberger visits 1 week per month, is Tuscan in design and, at an elevation of 3,500 feet, has noteworthy views. "Our home borders on the Tonto National Forest. I most enjoy sitting on the patio, gazing at the mountains, sunsets, and city lights of Scottsdale and Phoenix." Weinberger offers a poignant recollection: "We custom-built the home with a lot of help from our builder, who has since become a good friend. I was quite clear to him at the outset that, coming from a Brooklyn apartment, and never having dreamed of ever undertaking such a project, I would need a lot of his guidance."
Weinberger dabbles in photography, "mostly when traveling in association with my courses, or in Arizona," he says. He recently had his first photograph published.
Recalling his recent Asian lecture tour, he says, "I truly love the opportunities to experience other cultures and meet and converse with colleagues around the world. The tour this summer was to Taipei, Guangzhou, Nanjing, Beijing, and Shanghai in China, as well as Seoul. My goal in these lectures has been to couple evidence-based treatment approaches with the concept of self-ligation."
Commenting further on his China tour, he wistfully recalls, "We truly enjoyed and I often think about walking the Spirit Way at the Ming Tombs, a slightly curved path designed to fool evil spirits, lined on either side with willows and beautifully carved stone animals and human figures. Truly inspirational and thought-provoking."
As much as he enjoys his continent-hopping lifestyle, Weinberger is not remiss in expressing gratitude to his profession for making it all possible.
"I do love it," he says, and adds modestly, "I'd rather be lucky than good." He is good, though, and a plaque in his office, prominently displayed for his staff, embodies the philosophy that has led to his well-earned success: "Do it once, do it right, and let's have a program to hold it so we don't have to do it again."
How to Weather a Stormy Economy: Weinberger's Tips for Wary Orthodontists
Don't panic.
Don't abandon your overall strategy. This is a common blunder; many abandon their strategies right at the time they should be following them wholeheartedly.
Verify that your assets are properly allocated among different investment vehicles, and, with regard to stocks, in different and unrelated industries. Never put all your eggs in one basket.
Spend less than you earn, and save at least a little bit each year.
If you believe you have a reasonable horizon and are well, invest for the long term. To date, every downturn has been followed by a recovery.
---
Alan Ruskin is a staff writer for Orthodontic Products.