by Robert Lokar, DDS, MS
After 35 years, here is my clinical opinion about self-ligation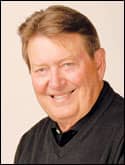 Robert Lokar, DDS, MS
The year was 1956. I was fresh out of undergraduate school, and a good friend of mine and I started selling aluminum awnings in the Detroit metro area. Although I outsold my friend (who went on to be one of the most successful business owners in the United States), I knew that corporate America was not destined to be in my future. I started looking at a profession that gave me the freedom to choose my direction and also gave me an opportunity to better people's lives. Orthodontics seemed the perfect fit.
When I received my orthodontic certificate in 1965, I dreamed of a 100 starts-per-year practice, which at that time was sizable. I had two mentors during my early orthodontic learning years: one was Joseph Jarabak, DDS, MS, and the other was Ron Roth, DDS, MS. Under Ron's teachings, I began using A Co's straightwire appliance. From that point forward, my clinical philosophies changed dramatically and my eyes began to open more widely. I realized that the clinical advantages of "smart" appliances—at least for that point in time—greatly outweighed putting most of the movements and activations into my hands.
In the past 35 years, I have been around to witness and experience some of the best developments in orthodontics. Now, it seems like I have nearly completed a 360° turn in terms of my appliance likes and dislikes. Still, at the end of the day, with every new development implemented into my daily practice, there were always positives and negatives that resulted.

Figure 1: An Autocad drawing of the Glide bracket.
In approximately 1986, I switched to the Speed appliance. Jarabak was touting multiloop systems that delivered ultralight forces over longer activations. This led to my interest in brackets without ties. I liked early alignment with Speed, but I did not like other aspects of the appliance. During that time, A Co introduced Activa. It also had some good early alignment advantages, but I found myself correcting more unwanted movements.
This led me back to a tied-twin bracket and Ormco's Bios System. I believed that this system would give me superior finishing results, but after using it for a couple of years, I then found myself missing certain aspects of the light force systems I had previously used. At the end of the day, I still seemed to get my best clinical results from the Roth A Co System, but still recognized that using ultralight forces to level and align teeth seemed to be more efficient with round, nickel titanium wires and self-ligating brackets.
The design aspect I missed most in using various self-ligating brackets was that none of them had a true twin foundation. I remember talking to Roth about this very topic in the mid-1990s. Even though I enjoyed some aspects of using self-ligation systems, I realized that using a "smarter" appliance system should first be based on a desired finishing criteria. For me, the critical factors of any bracket system design should be:
Ideal root alignment;
close interproximal contacts;
ideal labial/lingual root torque;
ideal crown inclinations;
good aesthetics;
optimal placement footprints; and
control from start to finish.
I became very experienced in both the functional and clinical benefits of a true mini twin straightwire appliance: mainly, ease of placement and predictable finishing guidance. But after my last experience with self-ligating appliances, I finally realized that what I like about the finishing stage of an appliance differs from the starting benefits. This created a quandary.
Figure 2

A) On September 4, 2006, a 12-year-old presented with 4 mm overjet, medium to severe crowding, deep lower curve-of-spee, and inverted upper centrals. The patient had poor hygiene, and I had concerns about lower-cuspid pockets.

B) On November 1, 2006, I started full bonding with upper and lower .014 Titanal Full Form with a midline stop-bend.

C) On December 19, 2006, I continued with the .014 Titanal in the upper arch and changed to .016 Titanal Full Form in the lower arch.
Birth of a New System
My wife will not let me forget the night I stayed up all night in a hotel room in New Orleans while attending a fall Great Lakes/Midwest Meeting. I have a propensity to always look at improving things. Previously that day, I had met with a former colleague of mine I had worked with at Ormco. He had become the new president and general manager of Lancer. His background was with Ormco/A Co, and he was intimately familiar with both the advantages and disadvantages of current self-ligating brackets.
We discussed many of my frustrations with self-ligating brackets and the need to take a new look and approach to low-friction systems. This got my creative juices flowing, and that night in my hotel room I had to prop up several pillows to block out the desk light so my wife could sleep. After working through the night, I had drafted the basic design of what is now the Praxis Glide System, or what I call a hybrid low-friction system.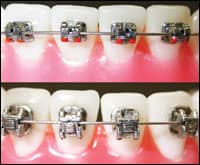 Figure 3: A Glide lower anterior segment compared with another popular self-ligating system.
Design Criteria
Follow the prescription foundation with which I was most successful in achieving my best clinical results.
Build in what I saw as the biggest benefit in low-friction appliances: an open-lumen archwire slot.
Design a clip that provided the clinician a low-friction benefit without sacrificing any of the functional aspects of a true twin system.
Create a bracket and slide mechanism that stayed clean and provided for less opportunity for plaque buildup or catastrophic bracket failure.
Create a clip-opening motion that required a light, "levered" force without the need to pull or tug on the clip mechanism, especially where plaque builds up and teeth are tenderer.
The first clinical trial we conducted was on the Glide bracket without the clip. This was done to validate the prescription and performance of the appliance system as a well-designed and well-manufactured true twin appliance.
We then continued our validation clinical trials on the Glide Clip mechanism. In the patient at left you will see only the first couple months of treatment. What I found is that functionally, aesthetically, and clinically, there is no difference between the Glide bracket and a true straightwire appliance. With all of my first patients, I accelerated visits to every 4 weeks so I could better monitor both bracket and prescription performance.
| | | |
| --- | --- | --- |
| Before | Now | The Difference |
| I used to get into light force rectangular wire much earlier in treatment—usually a .016 x .022 shape-memory Bio Sentaloy. | I can use .014 super elastic Titanal wires for extended appointment intervals—usually for the first 4 to 6 months of treatment before introducing any torque to the appliance. | This seems to create less unwanted movement than I saw with heavier wires tied in with elastics. It also seems to align teeth faster with lighter forces. |
| It took me an average of 12 to 14 months before I was into my finishing wires. | Now I feel like I can get into my finishing wires usually about 4 to 6 months sooner. | My treatment times are less and are coming down. |
| Once in my finishing stages with an SL system, I felt like I was grasping for better control to expedite finishing. | In mid to late treatment I feel like my control is not sacrificed at all. | With the Glide System I feel like now I am getting both benefits. |
| Tying brackets was timelier from patient to patient. It took more energy from my staff and myself. | I am not changing wires like I did before. I will not introduce rectangular wire until all slots are in good alignment. | This has reduced my chairtime and allowed me to do other things with the time. |
Sample Patient
The patient in Figure 2 was a 12-year-old who presented with 4 mm overjet, medium to severe crowding, deep lower curve-of-spee, and inverted upper centrals. The patient had poor hygiene, and I had concerns about lower-cuspid pockets.
So far, I believe that Glide is providing me with both a more friction-friendly environment and the true twin-design foundation that I desire most. Thanks to the efforts of many great clinicians and orthodontic companies, it is more apparent than ever that lower friction can be a better way to move teeth, especially in early arch-development stages. My problem in the past was that with many of the self-ligation appliances I used, other design aspects of the appliances that I liked were sacrificed.
This "Lighter Force" philosophy really is not new in my mind. Early in my career, Jarabak taught me that light forces could move teeth faster with fewer unwanted side effects. With the advent of new technology and metallurgical advancements, however, we can now use lighter forces with a higher degree of precision and less headache. It is interesting to contrast my early clinical protocol before and after using the Glide Hybrid System.
The design principle I like most about Glide is that I can follow either a biosegmental approach or a continuous arch treatment approach where desired. I can position brackets better, and I seem to see less repositioning later in treatment. For example, with lower anterior brackets the smaller footprint allows me to place the appliance better than I could place other self-ligating brackets.
In Summary
In developing the Glide System, my first parameter was to stay true to the straightwire concept.
While working with the residents at the University of Detroit/Mercy, we use many different appliances. Each one has it own specific learning curve, but to me, working with an appliance is like choosing the right set of golf clubs. The right set of clubs should optimize your unique swing strengths and minimize your swing weaknesses. Choosing the right appliance is very much the same. This parity goes not just for brackets and bands but for wires, wire sequences, auxiliaries, and treatment plans.
What I have always loved about our profession is that, unlike in brain surgery, there are many different treatment approaches you can take to accomplish the same results. Although we often get caught up in tenths of millimeters, in reality that is often the world we live in. What is interesting to me is that today my patients seem more tuned into tenths of millimeters than they were even 5 years ago. Going back to golf: There are so many different clubs, swings, and approaches that will lead to the same bogey, par, or, hopefully, birdie. I apologize to you if I am making too many golf parallels, but choosing appliances should be based mostly on your clinical philosophy. I have made mistakes choosing appliances in the past by looking too much at the possible positives instead of equally weighing the potential negatives.
I do not want to give you the idea that I am trying to simply sell brackets. It is up to each clinician to choose what is best for him or her. My passion has always been to look at how and what we are doing today and incrementally figure out how it can be done better.
There are many systems to choose from. For me, Glide delivers the best of both worlds. This appliance and others, thanks to the great work of many other clinicians and appliance designers, have greatly improved and continue to improve the patient care that I deliver. At the end of the day, that is what our goals should all be about.
Robert Lokar, DDS, MS, is semiretired. He maintained a practice in Dearborn, Mich, from 1965 to 2003. He continues to practice in Novi, Mich, and is a part-time associate professor of orthodontics at the University of Detroit/Mercy. Hepresently serves as the peer review chairman for the Michigan Dental Association on the board of the Michigan Association of Orthodontists. He is an inventor and patent holder of various appliances. He has a financial interest in products mentioned here. He can be reached via e-mail at