byKen Fischer, DDS
How the system helped one orthodontist work more effectively
SureSmile®, a technology-based orthodontic care delivery system, is quickly proving to be successful in treating orthodontic patients with fewer office visits and shorter treatment times. The SureSmile system is such a significant leap forward that it has a considerable impact on a practice and can appear quite complex when first considered. This article will demystify the SureSmile system and explain how it enhances patient care.
What is SureSmile?
SureSmile is a combination of technologies and services that give the orthodontist tools for diagnosis, treatment planning, and archwire design. By improving the orthodontist's ability to plan treatment and then deliver customized archwires, the plan can shorten treatment time by as much as 40%, according to reports from SureSmile practices. SureSmile's enabling technologies and services are:
Scanning processes that transform the patient's teeth into 3D virtual models;
computerized treatment planning that allows the teeth to be visualized and manipulated in 3D, in whole or in part, into a variety of simulated treatment plans or options;
Digital Lab, a group of technicians trained to produce computerized tooth models representing the initial malocclusion and the target occlusion to be evaluated according to the orthodontist's treatment objectives;
robotic archwire customization to fabricate customized prescription archwires from shape-memory alloys; and
practice-development services that support practices through the SureSmile learning program.
Who is the Right Patient?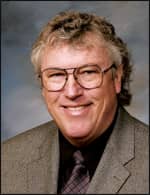 Ken Fischer, DDS
Any patient being considered for braces is an eligible SureSmile patient. The first decision to make is when to initiate the SureSmile status during the patient's treatment. I classify my SureSmile patients into three types: 1, 2, and 3.
Type 1 patients are new patients ready for a full appliance (braces on all teeth), leveling, and aligning.
Type 2 patients need preliminary treatment prior to full appliance, such as extraction-space closure, molar distalization, maxillary expansion, or anterior intrusion.
Type 3 patients are currently in Phase 1 treatment or wearing a limited appliance (braces only on a few teeth), and are now ready for full-appliance treatment. This type of classification allows me to best coordinate the patient's SureSmile treatment into our schedule.
Diagnostic Phase
A patient begins the SureSmile process when I acquire records (standard orthodontic radiographs and photographs) and an "initial scan" of alginate impressions sent to SureSmile to produce a digital "diagnostic model." Within days, I am able to use the diagnostic model on the SureSmile software to complete my diagnosis and then create or confirm the original treatment plan. If desired, various treatment options can be simulated with the 3D models in order to visualize treatment alternatives. For example, simulations can be done to see the relationships resulting from extraction or nonextraction protocols for the same patient.
Initial Therapeutic Phase
The treatment proceeds with preliminary full-appliance treatment to level the arches, close small spaces, begin rotation correction, begin interarch correction, etc, using progressive, conventional (preformed) wires. This phase of treatment takes up to 4 to 6 months in my practice. If the leveling is not finished within 5 to 6 months, further constraint management must be considered. But, generally, now is the time the patient is ready for an intraoral scan of the teeth.
Therapeutic Imaging Phase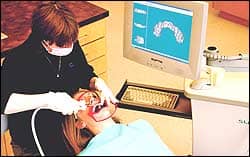 Top:The OraScanner captures 3D images of the teeth. Below: An orthodontist plans treatment in 3D.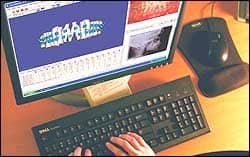 Following confirmation of proper bracket placement and attachment, necessary reshaping of the teeth, and acquisition of current photos and x-rays, my assistant uses the intraoral scanning wand to digitally record the current positions of the teeth and brackets. This data is automatically transferred to the SureSmile Digital Lab at Orametrix, which creates the 3D "therapeutic" model and returns it to the practice in 3 to 5 days.
Based on this therapeutic mode, I determine the final treatment objectives and send directions to the Digital Lab on how I expect the treatment to be affected with prescribed tooth movements such as arch-width correlation, torque, rotations, angulations, intrusion, extrusion, and interdigitation. The Digital Lab technician will "reset" the therapeutic model according to my prescription and inform me if there are any excessive tooth contacts, bracket interferences, or other resulting circumstances that may contradict my expectations. I then review the proposed setup and accept it or, as needed, request modifications or make them myself in the software. Through this interaction, SureSmile allows me to define the final target without a significant number of iterations with the Digital Lab.
The Custom Therapy Phase
After I review and accept the final therapeutic model, I order the SureSmile wire(s) according to my specification and schedule the patient for wire insertion in 4 weeks. The wires are made from special "memory" alloy that has been precisely bent by a computer-directed robot. When the precision wire is inserted into the patient's mouth, it is "activated" by body temperature and begins to return to the target configuration as determined by my approved setup. This stage of therapy typically takes about 4 months. The fact that these wires do not require numerous changes or modifications, or many office visits to reach the treatment goals, saves the patient treatment time, reduces the orthodontic staff's chairside requirements, and decreases my case-management time. All of this can help improve the practice's profit margin.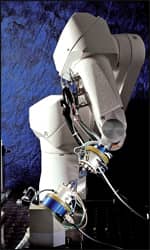 The SureSmile robot custom-bends each archwire.
My Personal Journey to Implementing SureSmile
I chose to make SureSmile a part of my practice after considerable deliberation. The key advantages I saw were the following:
Computerized treatment planning that supports selection of the "right" plan and prevents the need for revisions throughout treatment;
shorter treatment time and fewer office visits, which benefits the patient and practice;
increased patient satisfaction from more convenient and comfortable treatment; and
quality results.
Before I made this decision, I had reservations. When anyone considers incorporating new techniques or procedures into his or her orthodontic practice, there are a number of factors to evaluate, such as costs, current facility and staff capabilities, patients' acceptance, and the learning curve.
The adoption of the SureSmile process into an orthodontic practice is a paradigm shift that requires change from the status quo. Adequate planning and process management are keys to a smooth transition. The whole clinical team must be involved and assigned ownership of various process steps. New systems will need to be developed and implemented. Some aspects of the clinical schedule will need to be modified to accommodate intraoral scans, and the orthodontist will have to allow more time for online treatment planning. Remember, this additional doctor and staff time is offset by a reduction in both the number and length of patient appointments.
When I first heard about SureSmile, I was warned that the learning curve was steep for both the staff and the orthodontist. My staff and I started our journey along the learning curve by spending 4 days in the Orametrix training facility in Texas. This training experience was structured for both the orthodontist and staff. We were given materials, hands-on instruction, and the knowledge we needed to begin to put the pieces together. We were taught how to understand the process, how to use the software and other tools, and how to communicate with the technicians in the Digital Lab.
I also wondered how long it would take to see a return on my investment (ROI) after I installed the equipment and disrupted the operations of my practice. Additionally, I was concerned about maintaining my standards for the quality of my patients' results. To address these concerns, I interviewed experienced SureSmile users who I trusted to give me a fair and balanced appraisal. My advisers told me that my treatment times would be significantly reduced without reducing the quality of my results. The implications of this choice bolstered my faith that, although delayed, my ROI would be more than rewarding. Also, my ROI will increase proportionate to the number of SureSmile patients I treat. And finally, probably the most influential factor responsible for my becoming a SureSmile client was the quality and personalities of the SureSmile people I was working with—they were friendly, informative, and trustworthy.
For more tips on how to decrease treatment time, search our for "clinical pearls."
Although I have not finished a large number of SureSmile cases to date, I am impressed with how well the SureSmile wires are performing; there has been a minimum of archwire adjustments necessary to idealize the final occlusion. In theory, the faster I am able to finish my patients (and I mean quality finishes as measured by the ABO index), the more patients I will be able to start without working more hours. My staff has embraced our new treatment process with enthusiasm and dedication; they are eager to tell our patients how exciting it is to be a part of enhancing the orthodontic care we give our patients. SureSmile has us all looking forward to the future with heightened anticipation.
Ken Fischer, DDS, is in private practice in Villa Park, Calif. He is a guest lecturer at UCLA and Loma Linda University. He can be reached at