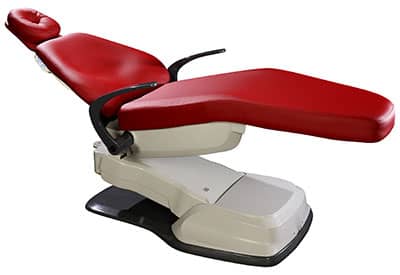 DentalEZ® Group, Malvern, Pa, has introduced the NuSimplicity™ patient chair.
Designed with ergonomics in mind, NuSimplicity allows users to freely maneuver while keeping patients comfortable. The tapered chair back reclines close to the operator's knees, and the new base plate allows for closer placement of operator stools.
Dual-location touch pad controls are located on both sides of the upper backrest, and the controls come standard with the option to add a wireless foot control, unit-mounted touch pad, or remote wireless touch pad.
Other features include: auto return, last position, three preset, and manual setting controls; durable, drop-down armrests on both sides; wide cantilevered base design for easy routing of tubing and wires; 60 degrees of rotation; and height flexibility from 15 to 35.5 inches.
The NuSimplicity offers add-on options like air glide technology and a USB outlet. The base of the NuSimplicity is available in either cast or steel plate design, and the chair comes in various textures and colors.
For more information about this and other orthodontic companies, visit our Market Guide.