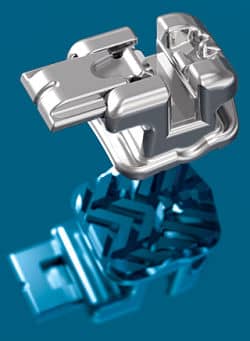 Ortho Classic, McMinnville, Ore, recently introduced the H4™ Self-Ligating System. The new bracket system has a one-piece pad/base, built with torque-in-base and compound contour with a patent pending Tread-Lok™ base for a stronger bond with the teeth.
According to the company, among the features and benefits of Tread-Lok are deep channels that provide increased surface area for easier application and improved stability. In addition, the tread pattern provides reinforced channels for multi-directional sheering protection.
The H4 system features a sliding door mechanism; scribe lines for easier bracket placement; large under tie-wing clearance for easier ligation; and a passive slot with four point contact with full-sized wires.
For more information about this and other orthodontic companies, visit our Market Guide.