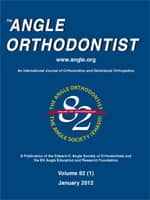 In a new article in The Angle Orthodontist, the authors compare the characteristics of commonly used types of traditional and heat-activated initial archwires at different temperatures.
The researchers looked at 48 archwires with cross-sectional diameters ranging from 0.010 inches to 0.016 inches. They performed a modified three-point wire-bending test on three analogous samples of each type of archwire at 55°C and 5°C, simulating an inserted archwire that is subjected to cold or hot drinks during a meal. For each resulting load/deflection curve, they isolated the plateau section and obtained the mean value of each parameter.
According to the authors' conclusions, "All nickel-titanium wires tested showed a significant change related to temperature in terms of behavior and force for both traditional and heat-activated wires. Stress under high temperatures can induce permanent strain, whereas the residual strain detected at low temperatures can be recovered from as temperature increases."
For a complete list of companies that offer NiTi wires, visit our Buyer's Guide.