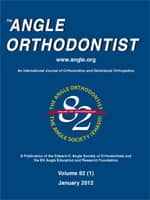 A recent article in the The Angle Orthodontist investigated patient discomfort during archwire engagement and disengagement in patients treated with self-ligating and conventional brackets.
The authors studied 18 consecutive patients (15 female, 3 male; age: 22.2 ± 6.4 years) who requested treatment with fixed orthodontic appliances. Patients were randomly assigned for bonding with SmartClip self-ligating brackets on one side of the dentition and conventional standard edgewise brackets on the other.
During the course of treatment, patients rated the discomfort experienced during every archwire engagement and disengagement using a numeric rating scale. 
The authors found that disengagement was rated as being significantly more painful on the SmartClip side (P ?=? .027). Retrospective ratings favored conventional brackets beyond ratings recorded during treatment.
To browse your bracket options, check out our most recent Focus on Brackets.