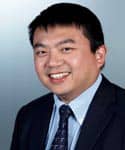 Biolux Research Ltd, Vancouver, Canada, has appointed Chung How Kau, BDS, MScD, MBA, PhD, MOrth, FDS, FFD (Ortho), FAMS (Ortho), Cert (Ortho), to its clinical and scientific advisory board. Kau is chairman and professor in the orthodontics department at the University of Alabama at Birmingham (UAB).
Kau's research interests include the biology of orthodontic tooth movement, and evaluating advanced technologies for accelerating the rate of tooth movement, with the goals of reducing treatment times and improving both clinical outcomes and the patient experience. He has investigated surgical and microvibration techniques of accelerating tooth movement, and is now the principal investigator on the current Biolux clinical study at UAB that is evaluating the effects of photobiomodulation on complete, whole-mouth orthodontic cases including bilateral extraction.
As a member of the Biolux Clinical and Scientific Advisory Board, Kau will consult on all aspects of the biology of tooth movement, guide and review the company's clinical trial roadmap, and contribute to product development. He will also serve as a reviewer to the clinical studies conducted by Biolux.
For more information about this and other orthodontic companies, visit our Buyer's Guide.