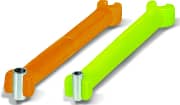 Ortho Technology, Tampa, Fla, offers Score pre-loaded crimpable stop applicators, designed for convenience and ease-of-use.
The pre-loaded applicator offers dental professionals easy handling and accuracy when placing crimpable tube stops on archwires, which, according to the company, saves valuable chairtime.
Once positioned, the Score applicator is easily removed with just a twist and can then be crimped. Score applicators are available in small .019″ and large .030″ for a variety of wire size applications.