On the Market
Nonmetal Ligature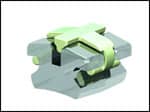 GAC International introduces Neo-ClipTM, a nonmetal ligature that hides most of the archwire and aids treatment control for faster results without sacrificing aesthetics. The Neo-Clip is passive with free-sliding round wires, interactive with square wires, and active with finishing wires. It is nonstaining and more than 80% translucent.
For more information, contact GAC International, 355 Knickerbocker Ave, Bohemia, NY 11716; (800) 645-5530; www.gacintl.com.
Oral Rinse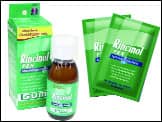 The Ortho Club/Imperial Orthodontic Products introduces Rincinol, a soothing oral rinse that adheres to and coats the mucosal surfaces of the oral cavity and soothes tissues that have various types of lesions. Rincinol is flavorful and easy to use. It is available in single-use, 0.33-oz pouches (36 pouches per box) or 4-oz bottles.
For more information, contact The Ortho Club/Imperial Orthodontic Products, PO Box 549, Urbana, Ohio 43078; (800) 679-6793; www.ctcn.net.
Product Catalog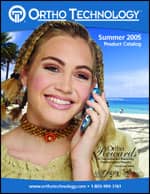 Ortho Technology Inc offers its 132-page Summer 2005 Product Catalog that showcases the entire Ortho Technology product line with thousands of photos and illustrations. New products featured in the catalog include MiniStripper™ for interproximal reduction, the 24K Gold Eruption Appliance, TruFlexTM De-Impacting and Separating Springs, and the Bionic and Rave bracket lines.
For more information, contact Ortho Technology Inc, 17401 Commerce Park Blvd, Tampa, FL 33647; (800) 999-3161; www.orthotechnology.com
Dental Chair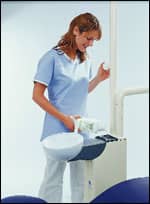 Sirona Dental Systems introduces the C8+ dental chair, which offers an automated internal-disinfection system that ensures optimal water hygiene at all times and significantly reduces the occurrence of bacteria and biofilm. Complete system sanitation is controlled with the touch of a button. Sirona's cleaning solution, Dentosept P, is flushed through the entire system, completely sanitizing all dental unit water lines and instruments.
For more information, contact Sirona Dental Systems, 4835 Sirona Dr, Suite 100, Charlotte, NC 28273; (800) 659-5977; www.sirona.com.
Mouthguard Sheets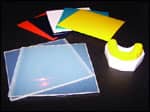 Glenroe Technologies offers DuraGuard Thermoform Mouthguard Sheets, which are constructed from a unique material that delivers protection, comfort, and a custom fit. They can be used to create custom-formed athletic mouthguards, soft nightguards, and bruxism splints. Round and square sheets are available to fit most vacuum- and pressure-form machines. A wide array of colors is available to match team colors.
For more information, contact Glenroe Technologies, 1912 44th Ave E, Bradenton, FL 34203; (800) 237-4060; www.glenroe.com.
Personalized Mugs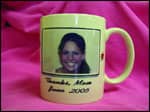 Fortson Foto offers personalized mugs that help you show patients and parents how much you appreciate their business. The mugs have your patients' picture on them and can be personalized in any way you choose before they are sent directly to the patient's family.
For more information, contact Chrissy Cencer, 18730 Woodworth, Redford, MI 48240; (313) 531-7727; www.fortsonfoto@aol.com.
Fluoride Trays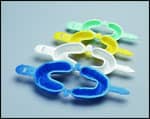 Sultan Dental Products offers Topex® disposable dual-arch fluoride trays, which feature a natural arch and a defined occlusal anatomy to help force fluoride onto all biting and interproximal tooth surfaces. The peripheral seal helps keep the fluoride inside the tray to reduce salivary dilution, while the distal dam helps prevent overflow to minimize gagging. The nonlatex trays also feature inward-folding hinges for increased patient comfort and interlocking handles to facilitate their placement and removal from the patient's mouth. The trays are color-coded and are available in small, medium, and large sizes. Each package of 100 contains 50 white upper and 50 blue lower trays.
For more information, contact Sultan Dental Products, 242 S Dean St, Englewood, NJ 07631; (800) 238-6739; www.sultandental.com.
Dry Heat Sterilizer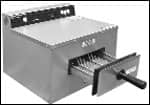 Alfa Medical offers the Cox Rapid Dry Heat Sterilizer, which completes the sterilization process in 6 minutes. The Cox is simple to use and inexpensive to run. Unlike with steam sterilization, no dulling or corrosion occurs and no water or chemicals are necessary. The Cox unit may be used with stainless steel cassettes, or instruments may be bagged to meet all state requirements.
For more information, contact Alfa Medical, 59 Madison Ave, Hempstead, NY 11550; (800) 762-1586; www.sterilizers.com/cox-sterilizer.asp.
Bending Pliers
Suhail A. Khouri, DDS, offers Bendistal Pliers that bend nitinol, titanium, and other superelastic wires without annealing. The pliers can help intrude anterior teeth, correct cross-bites, expand or constrict dental arches, and rotate and tip back molars with simple and fast bends on tied archwires. The pliers feature a unique design that allows placing permanent bends in strategic locations on archwires that activate them to move teeth to their planned positions, all with a simple intraoral squeeze.
For more information, contact Suhail A. Khouri, DDS, 175 Lamp & Lantern Village, Chesterfield, MO 63017; (636) 230-9933; www.bendistalpliers.com.
Infection Prevention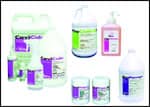 Great Lakes Orthodontics offers infection prevention products that are heavy-duty and economical. The products are recommended for sterilization and intermediate to high-level disinfection of heat-sensitive, immersible dental equipment, instruments, and surfaces. The hypoallergenic and pH-balanced hand soaps and sanitizers are mild enough for repeated use.
For more information, contact Great Lakes Orthodontics, 200 Cooper Ave, PO Box 5111, Tonawanda, NY 14151-5111; (800) 828-7626; www.greatlakesortho.com.
Travel Toothbrush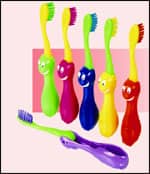 Plak Smacker offers a folding-handle dinosaur travel toothbrush for children. Brushes are available in a variety of bright colors, and feature soft, highly polished, end-rounded bristles made from Dupont Tynex Nylon. The folding handle makes the brush compact in size and perfect for travel. Children will enjoy the oversize dinosaur handle, which offers a better grip and improved brushing control.
For more information, contact Plak Smacker, 755 Trademark Cir, Corona, CA 92879; (800) 558-6684; www.plaksmacker.com.