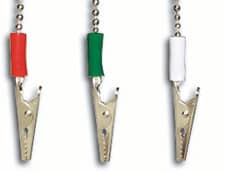 A significant proportion of dental bib clips harbored bacteria from the patient, the dental clinician, and the environment, even after the clips had undergone standard disinfection procedures in a hygiene clinic, according to a new study published by researchers at Tufts University School of Dental Medicine and the Forsyth Institute.
The study analyzed the clips on 20 dental bib holders after they had been used on patients treated in a dental hygiene clinic. The bib clips were sampled for aerobic and anaerobic bacterial contaminants immediately after treatment and again after the clips were cleaned using disinfecting, alcohol-containing wipes according to the manufacturer instructions and the clinic's disinfection protocol.
The disinfection procedures "adequately eliminated" the majority of bacteria found on the bib clips immediately after treatment, results showed. However, researchers found that 40% of the bib clips tested post-disinfection retained one or more aerobic bacteria, which can survive and grow in oxygenated environments. In addition, 70% of bib clips tested post-disinfection retained one or more anaerobic bacteria, which do not live or grow in the presence of oxygen, researchers said.
Some specific findings include:
65% of the clips contained oral bacteria often associated with chronic and refractory periodontitis (post-treatment, pre-disinfection);
15% of the clips contained anaerobic Streptococcus bacteria from the oral cavity and upper respiratory tract (post-disinfection);
5% of the clips still harbored at least one bacteria from the Staphylococcus, Prevotella and Neisseria species (post-disinfection);
45% of the clips retained at least one anaerobic bacterial isolate from skin (post-disinfection).
Researchers were "concerned" over the findings. "There is indeed a risk of cross-contamination from dental bib clips. The previous patient's oral bacteria could potentially still be on the clip and the new patient has a chance of being exposed to infection by using that same bib clip," said Bruce Paster, PhD, chair of the department of microbiology at the Forsyth Institute. "This situation can be avoided by thoroughly sterilizing the clips between each patient or by using disposable bib holders."
The full study, titled "Comprehensive Analysis of Aerobic and Anaerobic Bacteria Found on Dental Bib Clips at Hygiene Clinic," will be published as a supplement to the April issue of Compendium of Continuing Education in Dentistry.