Use a V-bend to Intrude Anterior Teeth
Suhail A. Khouri, DDS
Chesterfield, Mo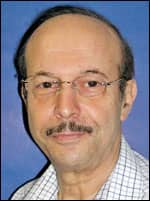 Intruding anterior teeth is one of the most challenging treatments that orthodontists face. After I invented and developed the Bendistal Pliers to bend distal ends of all kinds of unbendable superelastic wires without annealing, I started to use this tool to place permanent V-bends on tied superelastic archwires and activate those wires to intrude maxillary and mandibular incisors with unprecedented ease, efficiency, and comfort. The effect of this one-squeeze routine adjustment in the patient's mouth revolutionized the traditional treatment techniques of not only deep overbites, but nonsurgical correction of Class III cases. I have been using this technique routinely in my office and have collected clinical data showing its validity in dealing with stubborn orthodontic problems and easy molar tip backs. I have published and lectured about this technique, and I am ready to give extensive courses about it anywhere, anytime, to share my experience with my orthodontic colleagues around the world. For more information, visit www.bendistalpliers.com.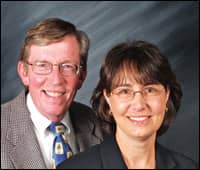 Having the Right Pliers Makes a Difference
Marty A. Lewis, DDS, MS
Robert N. Moore, DDS, PhD
Grand Island, Neb
We started our practice with Dentronix pliers, and we continue to use them. Clinical efficiency is enhanced when you have the right pliers for the job, and it performs consistently. The key to pliers performance is the sterilization and maintenance procedures. We use Dentronix DMP-US Plus Ultrasonic Cleaning Solution, changed daily, and dry our pliers with compressed air before dry-heat sterilization. Written procedures allow for consistency among staff members. Periodic lubrication of the box joint keeps the pliers' movement smooth. Using Dentronix pliers along with the best orthodontic appliances and wires does create greater efficiency.
Do you have a pearl to share with your colleagues?
Please send it to /b>, along with your headshot and any other pictures you would like to include.