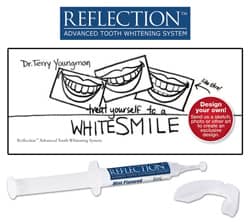 SmartPractice, Phoenix, has released a new patient hygiene product called Reflection Whitening Kit, which can be customized as a marketing tool for each orthodontic or dental practice.
Offices can create a personalized kit by uploading their logo or chosen image online and adding a desired personalization.
Kits are available in strengths of 10%, 22%, or 35% carbamide peroxide solution with added potassium nitrate to reduce sensitivity, which is the number one complaint about over-the-counter whitening products, according to SmartPractice.
Kits include:
2 bulk 5 ml syringes of mint-flavored teeth bleaching solution
2 reusable, universal no-heat trays
Shade guide & complete patient instructions
The kits can be used as giveaways for patient recruitment and is an easy way for practices to generate positive name recognition in the community, SmartPractice said.
Kits cost $11.99 each and SmartPractice is offering 12 free kits with the purchase of 24 or more Reflection Take-home Whitening Kits when purchased by June 30, 2013. Customers can use code: DSA3.
For more information on this company, visit our market guide.