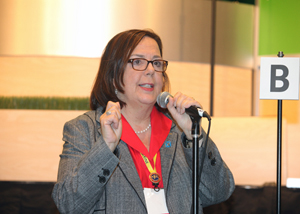 The American Dental Association (ADA) has installed periodontist Maxine Feinberg, DDS, of Cranford, NJ, as its next president. Feinberg is the third female to serve as the president of the 158,000-member organization. She will lead the organization through 2015.
Feinberg served as the ADA's president-elect from 2013 to 2014 prior to being elected president. A long-time ADA member, Feinberg's previous positions in organized dentistry have included serving as Fourth District Trustee to the ADA House of Delegates and as the first female president of the New Jersey Dental Association. She also served as president of the New Jersey State Board of Dentistry and as a delegate in both the ADA and New Jersey Dental Association's House of Delegates.
A graduate of New York University and the New York University College of Dentistry, Feinberg is a fellow in the American College of Dentists, the International College of Dentists, and the Pierre Fauchard Academy.