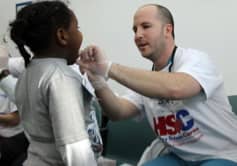 Henry Schein Inc, Melville, NY, recently joined forces with the American Dental Association (ADA) to celebrate the organization's annual Give Kids A Smile campaign.
The Give Kids A Smile campaign, an ADA-sponsored event, is held on the first Friday of each February. The initiative mobilizes dentists, dental team members, and local volunteers to provide oral health services to underserved children in their communities and bring attention to the critical need to expand access to oral health care for children. Henry Schein Dental has served as the program's exclusive professional product sponsor since the event's inception.
According to the Centers for Disease Control and Prevention (CDC), tooth decay affects 25% of 6- to 11-year-olds and 59% of adolescents aged 12 to 19. The CDC states that tooth decay is the single most chronic childhood disease in this country, and while wholly preventable, the burden of oral disease is borne disproportionately by the nation's youngest and poorest citizens.
According to the ADA, Give Kids A Smile Day is now in its 12th successful year, thanks to volunteer efforts of dentists and dental team members, annual donations of oral health supplies valued at more than $1 million from Henry Schein and its supplier partners, and the partnership of Colgate-Palmolive and DEXIS.
Since its inception, Give Kids A Smile has provided five million children with free oral health services with the help of almost half a million volunteers. This year the initiative will bring approximately 28,000 dental team volunteers, including 9,000 dentists, together with nearly 350,000 underserved children at 1,500 events across the country for free oral health screenings, education, and treatment.
"Since the inception of the Give Kids A Smile program, Henry Schein – through our global social responsibility program, Henry Schein Cares – has been proud to serve as the exclusive professional product sponsor and are grateful for the support of our valued supplier partners," said Stanley M. Bergman, Chairman of the Board and Chief Executive Officer of Henry Schein.
"We remain steadfast in our commitment to 'Give Kids A Smile's' mission of oral disease prevention in children. The importance of this message remains as crucial today as it ever has been, even as new US healthcare regulations begin to address gaps in the provision of pediatric oral healthcare, particularly for the young and the poor. We must seize on this momentum to address the significant barriers to accessing critical oral care that still remain."
This year, Henry Schein and 26 supplier partners provided 3,000 oral health care screening and prevention kits to the program, each containing supplies to serve 50 children. To date, Henry Schein and its supplier partners have donated products and services valued at more than $12 million to the Give Kids A Smile program.