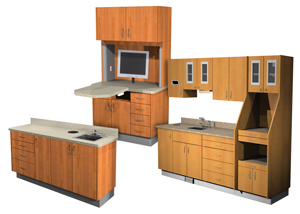 DentalEZ® Group, Malvern, Pa, recently announced two new additions to its line of dental cabinets, the NextGen® Sterilization Center and NextGen Basic Cabinets.
The design of the Sterilization Center is aimed at providing the entire dental team with all necessary requirements for a sterilization process in one Single-Flow Center, and it is available in four sizes: 72 inches, 96 inches, 120 inches, and 144 inches. The Center can also be customized to fit specific practice requirements. Features include upper storage cabinets equipped with task lighting; equipment tower with pull-out shelves and open storage spaces; deep, drop-in sink with faucet/spray; and Tapmaster® hands-free faucet control.
The new Basic Cabinet line consists of three workstations designed for workflow efficiency and ease of use.
The Basic Team Workstation and its left-to-right pivoting mobile work surface holds either duo or assistant-only instrumentation and features a thin, tapered work surface that can be moved out of the work area during procedures with a left or right gliding motion. Features include upper storage module with two cabinets, task lighting, and clean water system.
The Basic Doctor's and Assistant's Workstation (side workstation) is equipped with side cabinets that are available in a wide variety of door and drawer configurations to meet each practice's requirements. Features include storage drawers, countertop metal trash drop, and standard single-lever stainless steel faucet.
The Basic Dual Access Workstation (DAWS) is a shared workstation designed for dual open-bay operatory layouts, and it comes in three models: the DAWS Model A, which includes a privacy panel; the DAWS Model B, which includes a doctor's console; and the DAWS Model C, which includes x-ray bi-fold doors. Features include accessory-item drawers; customized storage area, sink plumbing area, and trash waste area; sub-base with adjustable feet for leveling cabinets; and access panel that can be used for a cabinet-mounted light or x-ray.
For more information about DentalEZ's full line of NextGen dental cabinets, please visit the company website.