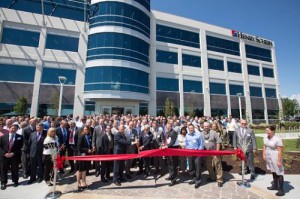 Henry Schein Inc, Melville, NY, recently announced the grand opening of a new headquarters building for its Practice Solutions business in American Fork, Utah, that will offer practitioners a state-of-the-art training facility for digital dentistry.
The 100,000-square-foot, environmentally friendly facility features a "Center of Excellence" equipped with high-quality digital dental equipment and technology from Henry Schein's supplier partners, including the Kavo Kerr Group, a Danaher company; Air Techniques; SciCan; and Planmeca, which provided its CAD CAM solutions. The Center for Excellence will allow new dentists to view products and provide local dental professionals a modern facility to offer free, high-quality oral care to the community's underserved population.
Dentists from Share a Smile, a dental nonprofit based in Provo, Utah, which provides free dental care to the poor and homeless, will work with Henry Schein Practice Solutions to offer dental care at the Center of Excellence.
"The opening of our new Henry Schein Practice Solutions headquarters and Center of Excellence underscores our dedication to being a reliable source of the latest digital dental equipment and technology for practitioners," said Stanley Bergman, chairman of the board and CEO of Henry Schein Inc, who spoke at the August 6 grand opening ceremony. "This facility also underscores our long-term commitment to American Fork and to the people of Utah, including its underserved population who will benefit from access to free oral care that local dentists will provide at the Center of Excellence, in keeping with Henry Schein's philosophy of 'Doing Well by Doing Good.'  We are excited to provide this beautiful new facility for our team members, dental professionals, and the community."
Henry Schein has been a member of the American Fork, Utah, community for nearly 2 decades.
Attendees at the building's grand opening ceremony had an opportunity to tour the new facility and view a range of practice-management software designed and developed by Henry Schein Practice Solutions, including:
Dentrix®, practice management software;
Dentrix Ascend®, a web-based practice management system;
Dentrix® Enterprise, a scalable and customizable system designed to meet community health care (CHC) organization needs;
Viive®, a Mac-based practice management system;
Easy Dental®, a low-cost, entry-level practice management system;
Specialty / OMSVision®, PerioVision®, and DentalVision® systems designed for oral surgeons, periodontists, and enterprises; and
eServices®, electronic services integrated with Dentrix and Easy Dental.
The new Henry Schein Practice solutions headquarters features a redesigned work environment created to optimize the company's technology support function, and collaborative spaces for its development teams. About 450 of the 800 Henry Schein Practice Solutions team members will work in the new building, which also includes "green" office features to reduce the facility's carbon footprint and increase energy efficiency. The building is currently pending LEED "Silver" Green Building Certification.