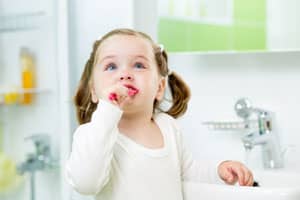 On the 1-year anniversary of their Kids' Healthy Mouths campaign, the Ad Council and the Partnership for Healthy Mouths, Healthy Lives announced results from a new study indicating that more parents report regularly monitoring and maintaining their child's oral health. As a result, more children are regularly brushing.
The survey, commissioned by the Ad Council and conducted by Cayenne Global Research, was administered to English- and Spanish-speaking parents of children ages 0 to 12.
Since the Kids' Healthy Mouths campaign launched in August 2012, it has received media exposure through widespread TV, radio, print, outdoor, and digital Public Service Advertisements (PSAs) in both English and Spanish. The campaign has been embraced by media outlets throughout the country, which have donated more than $33 million in free ad time and space. The PSAs aim to reduce the prevalence of dental decay by motivating parents to promote good oral health habits with their kids by reminding them to brush 2 minutes, twice a day, to avoid oral pain in the future.
According to the study administered by the Ad Council:
More than 50% of parents surveyed have seen or heard the new Kids' Healthy Mouths PSAs.
Significantly more parents in 2013 report that their child brushes at least twice a day compared to before the campaign launched (55% of English-speaking parents in 2013, up from 48% in 2012, and 77% of Spanish-speaking parents in 2013, up from 69% in 2012).
Parents in 2013 were also more likely to report their child brushes for at least 2 minutes each time (64% of English-speaking parents in 2013, up from 60% in 2012, and 77% of Spanish-speaking parents in 2013, up from 69% in 2012).
An increased number of English and Spanish-speaking parents report being "good" or "very good" at making sure their child brushes at least twice a day (65% of English-speaking parents in 2013, up from 60% in 2012, and 77% of Spanish-speaking parents in 2013, up from 73% in 2012) for 2 minutes each time (58% of English-speaking parents in 2013, up from 53% in 2012, and 79% of Spanish-speaking parents in 2013, up from 75% in 2012).
Dental decay is currently the most common chronic childhood disease in the United States, affecting 16.5 million children. Oral disease disproportionately affects children from low-income families, who have nearly double the number of cases of untreated dental decay as the general public.
"We are extremely pleased with these results and with the overall impact of our campaign. Many dental problems can be avoided through simple changes in routines, and we're seeing now how receptive Americans are to this message," said Gary Price, Secretary and CEO of the Dental Trade Alliance Foundation. "Through our collective efforts together with the Ad Council, we have become the foremost voice on the issue of improving children's oral health nationwide."
"These are some of the strongest survey results we've seen after only 1 year of a campaign. This is the first campaign in the Ad Council's 71-year history to address oral health, and we are proud to be part of such an important effort to improve the lives of millions of parents and children," said Peggy Conlon, President and CEO of the Ad Council.
Since the campaign launch, there have been more than 1.3 million visitors to the campaign website, 2min2x.org, which offers a collection of free, 2-minute videos—featuring notable characters from children's shows and networks, including Sesame Street and Cartoon Network—that kids can watch while brushing. The campaign has also benefited from tremendous press coverage, partnerships with influential parent-focused websites, endorsements from celebrity moms, and strong support from the dental community.
The campaign has gone further in recent months—offering children's oral health tips to parents on their cell phones via SMS messages. Parents can subscribe by texting "BRUSH" to 30364 or by visiting the homepage of 2min2x.org. In the upcoming months, the campaign will launch a new mobile game app for kids and their parents and a new national in-school oral health education program that aims to reach lower-income and minority children and their families. English- and Spanish-language brochures will also be distributed to dental offices this fall. All of the multimedia PSAs were created pro bono by ad agencies Grey Group and Wing in New York.