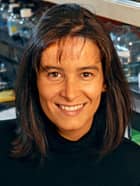 The New York University (NYU) College of Dentistry has appointed Cristina Teixeira, DDS, DMD, PhD, chair of the department of orthodontics. Teixeira had been serving as the interim chair since September 2011.
As interim chair, Teixeira helped formulate a new curriculum for the Advanced Education Program in Orthodontics and co-founded the Consortium for Translational Orthodontic Research at NYU. Teixeira joined NYUCD in 2001.
Teixeira has received funding from the National Institutes of Health and national and international recognition for her research in bone and cartilage biology. She was awarded the Outstanding Research Award from the University of Pennsylvania, the Young Investigator Award at the First International Conference on the Growth Plate, the B.F. Dewell Memorial Research Award from the American Association of Orthodontics Foundation, and the Young Investigator Award at Conferences in Orthodontic Advances in Science and Technology.