by Rich Smith
How a former family counselor became a motorcycle-loving orthodontist with a taste for flashy shoes
Listen to your spouse. Brad Woodford, MS, DDS, MS, did and never once regretted it. She was the one who urged him to give up his job as an established marriage-and-family counselor and, at 31, go back to school to become an orthodontist.
"My wife and I weren't yet married, but she knew me well enough by then to recognize the signs that I was burning out in my old job as the director of a children's psychiatric hospital program in Phoenix," says Woodford, who now is the owner of a successful orthodontic practice with two offices in Arizona's Verde Valley region. "She told me I ought to go to dental school and follow in the footsteps of my dad, who was a trailblazing orthodontist just outside of Phoenix. I thought about it for a couple of weeks, did some research, explored the idea. Then I came to the conclusion that dental school would be the right thing to do, even though it meant I wouldn't begin my career in orthodontics until practically midlife."
PRACTICE PROFILE

Name:

Woodford Orthodontics

Locations:

Cottonwood and Sedona, AZ

Owner:

Brad Woodford, MS, DDS, MS

Specialty:

Orthodontics

Years in Practice:

6

Patients per day:

55-60

Starts per year:

300
After picking up a gaggle of science credits he needed, Woodford was accepted into Ohio State University's School of Dentistry and completed the program in 1999. He stayed for residency training, which he finished 3 years later.
"I opted for Ohio State because it was a terrific school with great dental and orthodontic programs," he says. "But also because my dad was an alumnus and because I was born on campus. Looking back, I'm glad I chose Ohio State. While I was in residency, I had surgery on my back and was laid up for quite a while—but, thanks to an understanding faculty and help from my colleagues, I was able to complete residency on time."
Life on Planet Mirth
Woodford's plan for himself as a newly minted orthodontist was to join his father's practice and then take the reins in 2003, when the senior Woodford retired after approximately 40 years in practice.
"I really owe my success to the foundation laid by my dad," says Woodford, who goes by the moniker Dr Brad in order to differentiate himself from his father, known universally as Dr Woodford. "Because of his decades of hard work, I was able to step right into a situation where I had immediate income and could then easily take the practice to the next level."
STRAIGHTENING OUT TEETH AND LIVES
Not only does he help kids develop properly balanced jaws, Brad Woodford, MS, DDS, MS, also helps them develop a properly balanced outlook on life.
The Arizona orthodontist accomplishes the latter by drawing upon his training and experience as a mental health worker, the career he had before deciding to become an orthodontist.
Woodford says, "My background in the behavioral sciences still comes into play—the orthodontic chair is a tremendous platform from which to intervene in the lives of kids who might otherwise fall through the cracks of the mental health system and not receive the counseling or help they need."
That turns out to be particularly important in Woodford's corner of Arizona. "Our county has the highest adolescent suicide rate in the nation. I alone have lost four patients and three parents in the last several years from it."
The toll might have been higher were it not for Woodford's intervention with other patients who either announced their intent to take their own life or gave off classic warning signals that it might be on their minds. "I worked for a suicide prevention center in the Phoenix area," says the former marriage-and-family counselor who ran a children's psychiatric hospital program for a time. "Dealing with the issues surrounding suicide is familiar territory for me. That's why I'm not afraid to talk about it with patients and parents."
Woodford says any number of painful events in a person's life can trigger the desire to end it all, but among teen girls one of the most prevalent is the breakup of their first significant love relationship. "Working the younger ones through that is in some ways more of a challenge than it is with others, because a 13-year-old whose boyfriend has left her does not have the same sense of suicide's finality as does a 30-year-old. A young teen can say today she's going to complete the process of killing herself while at the same time making plans to tomorrow go shopping with her friends."
—RS
Going to the next level entailed, first, replacing his father's primary office in the city of Cottonwood with a 7,200-square-foot freestanding building. There was also a four-chair, 2,100-square-foot satellite office 16 miles away in Sedona subleased from a general dentist. Woodford the elder initiated this arrangement; Woodford the younger kept it going. Woodford co-owns the Cottonwood site with a friend and occupies about 3/4 of it. He sees patients at that location Tuesday through Thursday, and in Sedona every Monday.
Woodford transformed the Cottonwood office into a palace of merriment. "Orthodontics to me is a blast," he says by way of explaining his decision to strongly emphasize mirth-making. "I think I have the most fun, most colorful office on the planet, with something for everyone: a saltwater fish tank, sports memorabilia of all types, 14 different colors splashed all over the walls, custom murals, game room, special lighting. We recently added debonding days to the calendar—an occasion we mark by having a high-energy party, singing debonding songs right from a debonding songbook, and giving out Woodford Orthodontics coffee mugs filled with treats."
The irony of all this is that, out and about on the streets and in the shops of Cottonwood and Sedona, Woodford comes across as a serious-minded practitioner of orthodontics—until, that is, people glimpse his shoes, a pair of possibly the zaniest-looking Nikes ever.
"The ones I'm wearing right now are red with orange around the soles, purple on the back of the heel, yellow around the collar and have purple laces," he says. "I've got about 13 different pairs, each with my name embroidered on them. On what we call 'Crayola Days,' where the staff gets to wear whatever color of shirt they want, I mix my shoes: the right foot has a shoe of one color scheme, while the left foot has something else entirely. The patients are sitting in the operatory chairs—I've got eight of them in my main office—and they just about snap their necks trying to get a good look at what I've got on my feet from one visit to the next."
Woodford elicits pretty much the same reaction when he leaves the office and is seen by people in shops and restaurants. "The shoes have become sort of a marketing tool for my practice," he insists, adding that he procures the shoes direct from Nike at the Web site www.nikeid.com.
Promises They Can Bank On
Woodford's rationale for having all this fun is simple enough. "Look," he begins, "no one ever dies from malocclusion. People come to us because they want what we offer, and they are usually very positive and excited about the possibilities of what we can provide for them. If you see orthodontics in that light, there's no reason why it should be anything but fun. Besides, I don't want to spend 8 hours a day hating this job—and I don't want my staff to feel that way, either."
There is, of course, rock-solid professionalism and cutting-edge technology undergirding every aspect of Woodford's practice. He is big on miniscrews and all the procedures relating to them. His practice also enjoys a reputation for cohesive relationships with other specialists. "We keep our referring dentists informed at every step of the way, from our initial exam through debond," says Woodford, who works so closely with one local periodontist that this particular practitioner's discounted fee is now routinely incorporated into the total amount Woodford quotes for the orthodontic treatment of certain types of patients.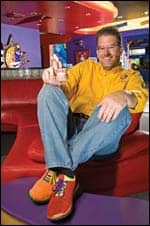 Woodford himself is no stranger to discounts, as evidenced by a program he offers called the Guaranteed Fee Plan. He credits it with having helped increase the number of young children brought in for early evaluation. Basically, the plan is a promise that treatment that a child might need in the future will be charged at today's prices. "It can, in some instances, save a family $500 or more on the cost of orthodontic care for just one child," he says. "As long as the child comes back faithfully for periodic observation appointments, my fee will not go up when the time comes to start treatment, no matter what has happened during the time in between with inflation or other things that might cause orthodontic prices to rise."
Woodford contends that many parents assume that if they take their child to the orthodontist for an evaluation at age 7, that child will walk out of the office with braces of some type, no matter what. "Certainly there's an element of truth to that, particularly in competitive markets where you have, say, three orthodontists on the same block and one of them fears the others will throw braces on the 7-year-old just to lock up that business, which puts pressure on the first one to do precisely that with the next 7-year-old he happens to see. That's been the knock against early orthodontic observation. In my view, the way it can be countered is with a guaranteed fee plan."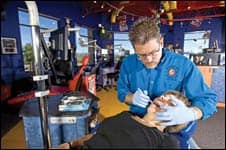 "Orthodontics to me is a blast," Woodford says.
Supporting Sports
It is said that people who enjoy fun have huge hearts. Woodford clearly fits the profile, as evidenced by his habit of donating one full-treatment case—valued at more than $5,000—as an annual fund-raiser auction item for the Parents Teachers Students Association at his own kids' school. In a similar vein, working in partnership with schools and a local church ministry, Woodford each year provides free treatment to at least one deserving youngster from the community. "School nurses nominate kids who are felt would experience a big improvement in their lives if only they had a nicer smile," he explains.
Woodford's generosity extends to local sports as well. He sponsors swimming, soccer, football, basketball, baseball, and tae-kwon-do teams, and also is a financial backer of a patient who aims to be a NASCAR champion. "He currently drives Sprint cars and is doing quite well on the racing circuit," Woodford says. "It's definitely a kick to see his car speeding past on the track at over 100 mph with Woodford Orthodontics painted on its side."
Sports generally are a way of life for Woodford and his family. Standing 6 feet 2 inches tall—just an inch shorter than Woodford himself —wife Barbara is a Big Ten women's basketball hall-of-famer. Their three children haven't yet stopped growing, but, genetics being what they are, it is likely daughters Meredith, 12, and McKenna, 10, along with son Britton, 7—young athletes all—will themselves have no difficulty working the hoops when they reach maturity.
In Hog Heaven
As a family man, Woodford and his bunch spend time watching rented movies on television. One of his recent favorites was Wild Hogs—and not just because he, like the main characters, is a recreational Harley-Davidson motorcycle rider. "It was a funny movie," he says, even as he confides in the next breath that the film contains parallels to his own life.
Wild Hogs (2006) stars John Travolta and Tim Allen as one half of a group of Harley-riding former high school buddies, now in middle age and all successful professionals. The movie is about their first long ride together: It begins in an East Coast suburb, ends on the beaches of California, and features plenty of hijinks in between. Woodford, too, rides with friends on the weekends and has taken a trip to the edge of the Pacific Ocean (for an orthodontic association meeting) that included its fair share of hijinks (chiefly, a visit to a tattoo parlor where he had a picture of a Harley etched onto the back of his shoulder).
"I grew up riding dirt bikes and always promised myself that someday, when I was making a good living, I'd buy a touring bike. I bought my first Harley, used, a couple of years ago, then moved up to a brand-new Harley Road Glide. Extensively chromed. Custom painted. Loaded with every touring accessory possible. It's the nicest thing I've ever owned."
Sadly, he may not be able to count on owning it forever. Barbara, who works part-time as a hospital trauma nurse, does not share his love of motorcycling. "She's hinting around that she thinks it's maybe time for me to give it up."
Woodford has not yet made up his mind about what to do in response to his wife's gentle nudgings. However, if he knows what's best, he will listen to his spouse. He did once before, and look how well that turned out.
Rich Smith is a contributing writer for Orthodontic Products. For more information, contact