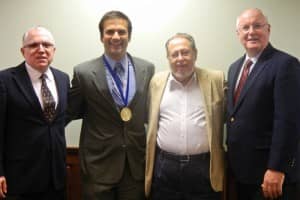 According to an announcement from the university, Flavio Uribe, DDS, MDS, director of the orthodontic clinic and postgraduate program at the University of Connecticut School of Dental Medicine, has been awarded the Dr Charles J. Burstone Endowed Professorship in Orthodontics.
"Dr Uribe is one of the new leaders in the world of academic orthodontics, and is widely respected in his field. He shares that distinction with Dr Burstone, who helped build our internationally renowned orthodontics program," said R. Lamont MacNeil (pictured at right), dean of the School of Dental Medicine.
Ravindra Nanda, BDS, MDentSc, PhD (pictured at left), professor and chair of the Division of Orthodontics, said, "In my 40 years in education, I have not seen such a well-rounded educator. Dr Uribe is an excellent clinician, researcher, and teacher. He collaborates with many individuals from the basic and clinical sciences. He understands that the future of innovation comes through collaboration. Dr Uribe is always searching for the next step, a new angle, a new application."
Uribe (pictured second from the left) earned a master's of dental science and certificate in orthodontics from the UConn School of Dental Medicine in 2002. He became an assistant professor in 2002, program director in 2005, and associate professor in 2009.
"Staying at UConn was important because this department has been active in research and fostering an academic environment where many of the current leaders in the field—at the national and international levels—have trained," Uribe said.
Uribe divides his time among clinical care, research, and teaching. "I'm a clinician by training, with a great interest in basic science," he said. "Innovation is bridging the basic sciences with clinical practice through translational research."
Uribe now carries on the legacy of Professor Emeritus Charles Burstone, DDS, MS (pictured second from right). Burstone was chief of orthodontic services from 1971 to 1992. During his tenure, he also held an appointment as professor in the Department of Mechanical Engineering at the School of Engineering.
"It is extremely humbling to receive this honor in the name of Dr Burstone," Uribe said. "Dr Burstone is one of the fathers of modern orthodontics. He's an inventor, a thinker, and one of a kind. My task is clear: to live up to Dr Burstone's name and continue to maintain the tradition of excellence of our orthodontic program."
To read a profile of Uribe from Orthodontic Products, click here.