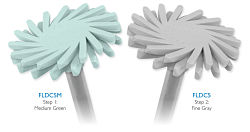 Brasseler USA®, Savannah, Ga, has expanded its Feather Lite™ line of polishers with a new intraoral composite polisher, the DiaComp™ Feather Lite™.
The DiaComp Feather Lite is a simple, two-step, diamond-infused polishing system suitable for a wide variety of composite materials. Its finger design and flexible spirals create an enamel-like finish, and users can access hard-to-reach areas for a completely finished surface area.
The DiaComp Feather Lite delivers polished restorations that Brasseler USA says minimize soft tissue irritation; resist the formation of plaque, calculus, and staining; are easy to clean; and increase the restoration's service life.