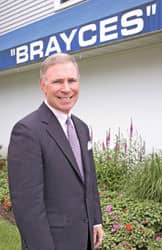 In a visit to Capitol Hill last week, Robert Bray, DDS, MS (pictured), formerpresident of the AAO, and fellow orthodontists cautioned lawmakers against subjectingorthodontists to new consumer-protection rules aimed at the bankingindustry.
Orthodontists worry that a provision in the banking reform legislationcurrently being debated by Congress is too broad and would unfairlytarget orthodontic practices that extend credit to their patients to payfor treatment.
"Orthodontists did not cause this financial crisis, and we should not bea part of this in any way," said Bray, who employs 12 people at fivedental offices in and around Atlantic City, NJ. Until final legislation is passed, many orthodontists, dentalprofessionals, and other small business owners continue to worry thatthe language is so sweeping that they cannot be sure whether they areaffected.
"We are exempt only if we don't offer any financial arrangements topatients," said Matthew Messina, a dentist in Fairview Park, Ohio. "Now Ican't be a nice guy. I don't want to be a bank."
Senate Banking Committee Chairman Christopher Dodd (D-Conn) said he isnot targeting "the local grocer" with consumer-protection language. "Youhave to be in the business of financial services or products to beaffected," he said last week. "We took care of those dentists and otherswho were worried."