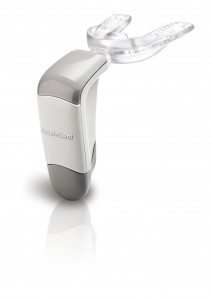 AcceleDent® Aura, by Houston-based OrthoAccel® Technologies Inc, has been named a finalist in the 12th Annual American Business Awards (ABA) Competition in the category of New Product of the Year – Health and Pharmaceuticals. AcceleDent Aura is an FDA-cleared, noninvasive medical device that speeds up orthodontic treatment by as much as 50% with just 20 minutes of daily use, according to the manufacturer.
The ABAs, also known as The Stevie® Awards, honor and aim to generate public recognition of achievements and positive contributions from different facets of business, such as new product development, marketing, information technology, and web development.
AcceleDent was one of more than 3,300 nominations submitted in the annual ABA competition, which is judged by 130 business professionals from varying industries. During preliminary judging, each entry is reviewed and rated by no fewer than five judges, and it must receive an average score of at least 7 on a 10.0 scale to become a finalist.
Winners will be announced in September following the "People's Choice" open voting process, which allows the public to vote online for their favorite new product. Voting will be conducted during July and August.