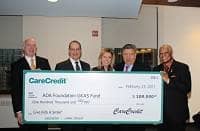 CareCredit, Costa Mesa, Calif, has donated $100,000 to the American Dental Association (ADA) FoundationGive Kids a Smile Fund. This is CareCredit's fifth consecutivedonation, and the funding will help the ADA Foundation make grantsthat support the Give Kids a Smile program.
The Give Kids a Smile program aims to raise awareness of the high levelof oral disease suffered by children (primarily from low-incomefamilies) and to enable volunteer dental teams across the country toprovide free dental care, screening, and education to children in need.In addition, the program seeks to demonstrate dentistry's commitment toaddressing access to care and to urge policymakers to increase fundingfor children's oral health.
In 2010, with the help of the CareCredit contribution, the ADA Foundation awarded grants to the Hispanic Dental Association, the National Dental Association, and Oral Health America.
For more information about this and other orthodontic companies, visit our Buyer's Guide.