by Cheryl Beck
How a small-town orthodontist built a big-time practice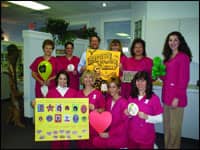 Most entrepreneurs know that the best new clients are those who are referred by other happy clients. But as much as they believe in the concept, many of these same professionals believe that providing expert care is referral-worthy enough, and that establishing exceptional client relations is time-consuming or not cost-efficient. Michael J. Kehoe, DDS, MSPC, of Romeo, Mich, a small town about 40 miles north of Detroit, couldn't disagree more.
Kehoe decided early in his career to try to provide both outstanding care and an enjoyable experience each and every time. His team strives to make sure each family knows that their business is very much appreciated and that orthodontics can be fun, instead of painful or scary. As a result, in the 8 short years he's been in practice, his office has grown from one staff person to 10, and also consistently starts nearly twice as many patients as other orthodontists in his area. All of this is accomplished without a big-budget marketing plan; instead, he and his staff rely on a little creativity and a lot of community spirit. Judging by the numerous "thank you" notes and the steadily growing list of referrals, it is working.
Kehoe credits seminar speaker Rosemary Bray for pointing him in the direction. "[She] talked about how visits should be fun for the kids. It made so much sense," he says.
Since then, Kehoe has been trying to make the orthodontic process more fun by holding special events that every patient can enjoy.
It all started with a basic Halloween drawing contest the first year he was in practice. Patients were asked to draw a picture incorporating both holiday ideas and orthodontics. Prizes were awarded by a random drawing of names of those who participated. This past year, the walls teemed with 80 drawings—even one from an adult patient for the first time.
When the village of Romeo started a store-to-store, pre-Halloween trick-or-treat event for local kids, no one knew exactly what to expect. But Kehoe supported it by handing out goodies himself. How much response can there be from trick-or-treating? This year, he handed out 2,000 glow-in-the-dark toothbrushes in 11¼2 hours. Kehoe says, "Kids come from all over now and from areas that don't have an [orthodontic] office. They even ask if we have the toothbrushes."
Responding to the success of the Halloween contest, his office has added others over the years, such as "Crazy Tie Week," where photos are taken of participants, and patients vote for the wackiest tie creations. Thanksgiving brings "Tom Turkey," who has a pumpkin body and a gourd head, but lacks feathers. Parents and children are invited to write something for which they are thankful (along with their name) on a feather made of colored paper. The feathers are placed into the body with toothpicks for everyone to appreciate. Just before Thanksgiving, a few are randomly chosen to receive prizes, such as a gourmet pie from a local baker.
Patients who have December appointments are invited to try for a "lucky candy cane." Kehoe keeps a container full of canes in the office, but only a few have specially marked bottom tips that earn the patient who pulls them a present, such as a gift certificate to a music store.
When it was time to come up with a new special event idea in the summer of 2004, Kehoe turned his thoughts once again to the downtown Romeo community. He knew that the merchants continually struggled to get customers to visit, and that many patients came to town only for their office visit. The idea of a scavenger hunt opened a variety of possibilities. As it came together, 16 kid-friendly establishments were asked to participate.
Next, rather than asking each location to donate something, his office purchased enough items for each store to have something hidden somewhere among the shelves. A barber shop, antique stores, a party supply store, and even the local Chamber of Commerce office hid summer staples, including a ball and bat, a hula hoop, a kite, a beach ball, and sunscreen. The contest ran for about 6 weeks and was a definite success with multiple benefits.
First of all, everyone had fun. "Since it was summer, it gave the kids something else to do and the staff had a blast," Kehoe notes.
Also, even though only about 40 families participated in this inaugural hunt, the merchants declared it a big success. In a small downtown area where only a few new customers walking through the door is worth the effort, many had several first-time visitors due to the hunt.
At the end of the contest, only one child had filled out every item on his list correctly, so he was awarded all 16 of the prize items. "It was good for everyone all around," Kehoe says, and he plans to make the scavenger hunt an annual event.
Next year, though, he plans to advertise a little earlier, before school gets out, in hopes of encouraging more patient participation.
Kehoe also supports his community of clients in a variety of other ways. For example, he has a large bulletin board near the reception desk that features articles cut from local newspapers that note special accomplishments by any of his patients.
Academic excellence or sports achievements are proudly displayed on the board, and patients' families truly appreciate his support.
He's also happy to advertise in school sports programs and yearbooks, believing that all of these things are a small investment of time or funds that can be a large benefit to his practice by creating positive attitudes in his patients.
This sense of community and genuine caring is certainly catching on. Kehoe recently had to add more room for all of the fun, expanding his office space and increasing from four chairs to nine.
One of many "thank you" notes displayed on Kehoe's wall puts things in perspective. In it, a young patient wrote, "I really enjoy coming because your office is one of the coolest offices I know of." Advertising doesn't get much better than that.
Cheryl Beck is a contributing writer for Orthodontic Products.