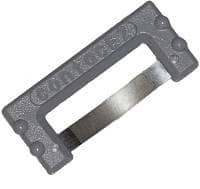 ContacEZ,Vancouver, Wash, offers the ContacEZ Final Polishing Strip. Thesingle-handed, diamond strip can be used to clean stains from theinterproximal areas.
The flexible 0.04-mm strip can also be used for final polishing ofproximal surfaces of restorations and restoring natural finishes ofcrowns, veneers, inlays, and onlays after definitive cementation.
Orthodontists or staff members can get a free polishing strip through ContactEZ's Web site or by calling (360) 694-1000.
For more information about this and other orthodontic companies, visit our Buyer's Guide.