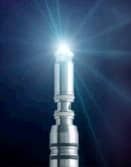 Kavo Dental North America, Charlotte, NC, has introduced the MULTI LED upgrade for KaVo MULTIflex couplers. According to the company, the MULTI LED offers LED light with the color temperature closest to daylight. The light is focused on the bur tip to offer a halo-free, precise, uniform pattern of illumination.
The MULTI LED is designed to retrofit dental treatment units from a single operatory to an entire practice in a matter of seconds. There is no need to buy new LED MULTIflex couplers. The service life of the KaVo LED is several times that of a high-pressure, quartz halogen bulb.
KaVo MULTI LED is also available in the KaVo's best-selling MULTIflex six-pin couplers—the 460LED and the 465LED with spray regulator.
For more information on this and other orthodontic companies, visit our Buyer's Guide.