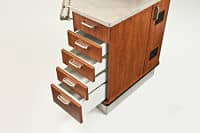 Midmark Corp, Versailles, Ohio, has introduced its Artizan® Dental Furniture drawer and lift systems.
The Artizan drawer system features a side, height, and tilt feature, aswell as full-extension, soft-close drawers. The design is available instandard silk white or an optional stainless-steel look. Deep drawerprofiles can be fitted with a color-coordinated BOXCAP or with frostedglass.
The new door lift systems for the Artizan Treatment Stations featuredoors that lift up and out of the way, as opposed to the traditionalswing-out doors that can take up extra space. The door design allows fora complete view into a cabinet's interior and access to stored items inthe upper modules. "Straight up" and "up and over" lifts options areavailable. Each option can be ordered as manual operation or with aSERVO-DRIVE system.
For more information about this and other orthodontic companies, visit our Buyer's Guide.