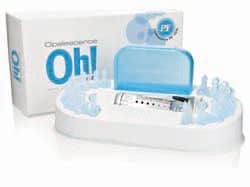 Ultradent Products Inc, South Jordan, Utah, has launched Opalescence Oh!.
Opalescence Oh! unit-dose disposable bulbs are filled with Opalescence whitening gel. Users remove the bulb's cap, then fill a single custom whitening tray with the gel. According to the company, Opalescence Oh! formula contains potassium nitrate and fluoride designed to increase enamel strength, minimize sensitivity, and reduce the risk of caries.
Opalescence Oh! is available in 10%, 15%, 20%, and 35% carbamide peroxide options in mint, melon, and regular flavors.
For more information about this and other orthodontic companies, visit our Buyer's Guide.