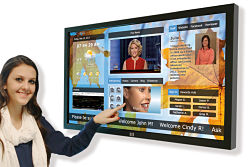 Solutions By Design, Clovis, Calif, now offers ScreenPlay Montage® 3.0, the latest version of its interactive communication system, which is designed to create the ultimate patient experience in your office's reception area.
Utilizing the ScreenPlay Montage, clinicians can organize, manage, and display educational and informational content in one place, and deploy display content via a touch-sensitive plasma, Smart-touch PC, or traditional PC.
Serving as a content manager and content player, the ScreenPlay Montage is largely distributed via the Internet and streamed to a display or PC. Users choose, set up, and manage what content they want to include.
Key features include:
Cable TV feed;
ScreenPlay malocclusion and treatment animations;
Scrolling welcome and congratulations;
Messaging (management software integration);
Looping photo gallery;
Patient check-in;
Practice reviewer; and
Facebook link.