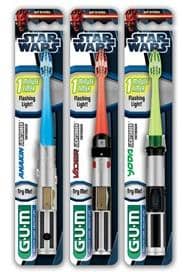 Sunstar Americas Inc, Chicago, offers the GUM® Star Wars™ line of toothbrushes. The line features three different products that come in unique character designs.
The GUM Star Wars Lightsaber™ toothbrush (pictured) is lightsaber-shaped and flashes for 60-second intervals to encourage longer brushing. Interdental trim bristles are designed to align with the interdental arch to remove plaque between teeth. The lightsaber design is available in three characters: Anakin Skywalker™, Yoda™, and Darth Vader™.
The GUM Star Wars Power toothbrush features ultrasoft oscillating bristles that gently massage gums and teeth, along with a suction cup base designed to reduce counter clutter and help keep the brush head clean. It is available in two characters: Darth Vader and Clone Captain Rex™.
The GUM Star Wars Manual toothbrush comes in a twin pack and includes soft bristles with Dome Trim®, clinically proven to provide exceptional plaque removal on tooth surfaces and below the gum line. The Manual brush is available in four characters: Anakin Skywalker, Yoda, Darth Vader, and Clone Captain Rex.
The entire GUM Star Wars toothbrush line will appear on shelves at most major retailers this spring.
For more information on this and other orthodontic companies, visit our Buyer's Guide.