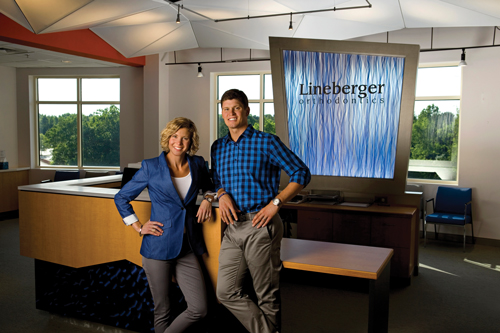 What does your office style say about you and your practice? And is it saying the right things? If you're not sure or you know it's saying all the wrong things, a designer and/or architect can be an important partner in defining your practice. From creating a signature style and brand to better flow and efficiency, a design partner can help you bring it all together.
Orthodontic Products recently asked CIVITAS Architects to share a recent project to demonstrate how design can be used to make an impact.
Practice Name: Lineberger Orthodontics
Practice Location: Huntersville, NC
Square Footage: 4,500
Designer: CIVITAS Architects
Project Time Frame: Phase 1 – 2,483
What the Doctor Wanted: The clients were an extremely active, energetic, and tech-centric husband-and-wife orthodontic team with very different personalities who had a dream to build a practice together. They wanted a high-tech environment that expressed their sense of adventure, while putting the emphasis on the patient experience.
Execution: A memorable patient experience simply is their experience of comfort, pleasure, and excitement in a professional and inspirational atmosphere. The goal was to bring together form and function, while creating a space that provided for work efficiency and harmony among the team—nothing was to look like work. To give the practice an unmistakable and unforgettable identity, the architect had to come up with that extra something: fond memories of the visit through uplifting and inspirational elements. This inspirational element was found in the personalities of the active, sports-loving couple. They were the fresh air and energy of the practice. For us, this quality was the core of the Lineberger Orthodontics brand. We expressed this through the Barrisol ceiling feature with LED lighting above. This illuminated canvas is visible from outside the building and invites and welcomes people to the experience. The custom-designed ceiling feature crowns the receptionist desk in the tall open space just like fast-moving clouds covering the mountaintop and then flowing downhill with the wind.
Design Inspirations: Among many inspirational elements in the project, the one that truly inspired us was the down-to-earth, transparent, sincere, and caring personalities of both doctors. Their love for the nature, sports, mountain climbing, and the community certainly became our guide in the design.
Design Challenges and Resolutions: The future use of the space, which was reserved for Phase 2, as we did not know what the future would hold for them.
Innovative Features: The high, open ceiling and odd-shaped space provided an unexpected opportunity to experiment with a sculptural ceiling element. It allows unimpeded circulation and can guide people from one place to the next. The floating ceiling feature illuminates the heart of the office and provides a great opportunity for marketing the practice from the street level. There is something in each area that provides visitors a mental image to take home. OP