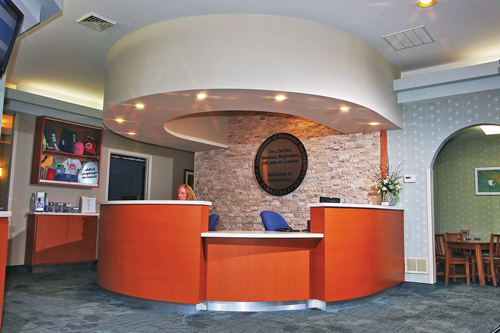 What does your office style say about you and your practice? And is it saying the right things? If you're not sure or you know it's saying all the wrong things, a designer and/or architect can be an important partner in defining your practice. From creating a signature style and brand to better flow and efficiency, a design partner can help you bring it all together.
Orthodontic Products recently asked Chuck Hergeron, from TOOC Inc, to share a recent project to demonstrate how design can be used to make an impact.
Practice Name: Drs Decker, Sbuttoni, Boghosian, DiCerbo, and Lawless
Practice Location: Delmar, NY
Square Footage: 2,750
Designer: Chuck Bergeron, TOOC Inc

Interior Decorator: Deborah Bohl Interiors
Project Time Frame: 11 days
What the Doctor Wanted: The doctors wanted a general facelift for an outdated office, while making a few changes that would take pressure off the waiting room. It was the general consensus that a separate digital x-ray nook (separated from the records room) would eliminate some backup.
Execution: To get a separate digital x-ray nook, a little space was stolen from an oversized T/C room and a large closet that housed heating and air conditioning equipment was taken over. Heating and air conditioning were then moved to the attic.
Design Inspiration: Dr DiCerbo says, "We wanted to take down the reception wall and create a warm and welcoming environment for our patients. The reception area now reflects who we are as a practice, a team of experienced doctors and staff committed to providing excellent, state-of-the-art orthodontic care to our community."
Design Challenges and Resolutions: The biggest challenge was to redesign an office that met the doctors' requirements and could feasibly be redone in a 10- to 12-day span. By opening the space up with wall removal and minimal new wall construction, time was saved. DiCerbo's wish to have a very open reception desk was a simple request with the introduction of a radiused desk. This desk and all other office cabinetry were completed prior to the start of demolition. TOOC and the general contractor paid careful attention to all dimensions. Templates were supplied to the general contractor for soffits and critical plumbing and electrical locations.
Innovative Features: In this case, there was nothing really innovative, but rather the best utilization of square footage possible. OP