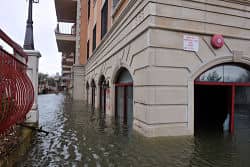 By Angie Marcos
The ADA Foundation board, led by David Whiston, DDS, president of the board of directors, has announced a new emergency grant to provide interim aid for orthodontists and dentists whose lives and practices were recently battered by Hurricane Sandy. The super storm that slammed the Northeast 2 weeks ago left many orthodontists and dentists to deal with damaged practices and homes that have been flooded or left without electricity.
"The ADA Foundation works to support dentists in their time of need," said Whiston. "During an event of this magnitude, the ADA Foundation plays a small role in the overall scope of disaster assistance. However, the support we provide dentists is surely welcome assistance at this crucial time."
The Foundation already has a Disaster Assistance Grants Program in place to benefit dentists who suffer property loss during a declared disaster, after insurance claims have been resolved and subject to the showing of financial need. The new Emergency Disaster Assistance Grant focuses on orthodontists and dentists' immediate short-term needs. The grant is to be used for emergency resources such as food, water, clothing, shelter, and counseling in the occurrence of a declared disaster.
"The Foundation always tries to come up with creative solutions that help the members and offer them resources in their time of need," said Gene Wurth, Executive Director, ADA Foundation. "This grant is particular to this instance."
If applicable, orthodontists and dentists may apply for both grants. Emergency grant applications must be submitted by November 30. Applications for the Disaster Assistance Grant are to be filed within 60 days of the declared disaster, although those interested in applying should visit the Foundation's Web site for additional deadline information.
The ADA Foundation's fund for its disaster assistance grants is supported by donations from generous contributors. Tax-deductible donations to the ADA Foundation are welcome as the organization continues to provide grant assistance to those orthodontists, dentists, and dental organizations affected by Hurricane Sandy and other disasters.