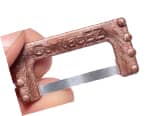 ContacEZ, Vancouver, Wash, recently introduced its Copper Narrow Strip. The Copper Narrow Strip is designed to clean out and polish overhangs and excess composite resin, in the the sub-gingival area in the interproximal space.
The ultra-thin, single-sided strips feature an extra-fine diamond grit, and are autoclavable and reusable.
For more information about this and other orthodontic companies, visit our Buyer's Guide.